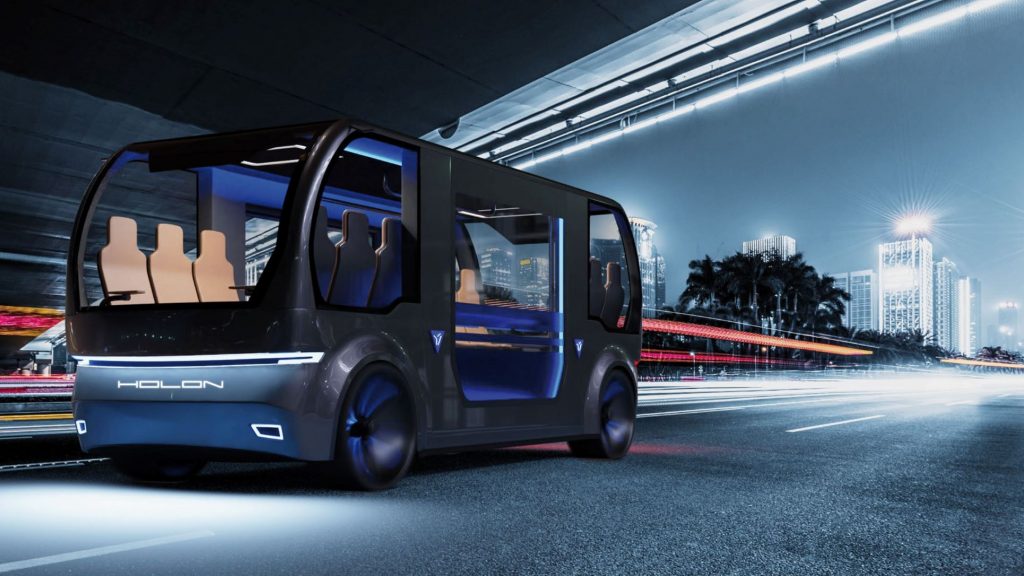 Benteler is underlining its global business ambitions in electric and autonomous mobility by establishing a new brand. Its EV Systems business unit, which was spun off at the end of 2021, will change its name to Holon, with a future focus on the business with fully electric, autonomous "movers." The term holon comes from the Greek and means "something that is both a whole and a part of a whole."
"Mobility around the world is undergoing rapid change," said Ralf Göttel, Benteler Group CEO, of the change. "Benteler is optimally prepared for this; 85% of our products are independent of the type of drive. In parallel with the traditional automotive business, innovative, digitally connected, and autonomous mobility services promise high growth in the coming years. With our engineering and manufacturing expertise, we are predestined to fill a gap in this hitherto strongly software-dominated field."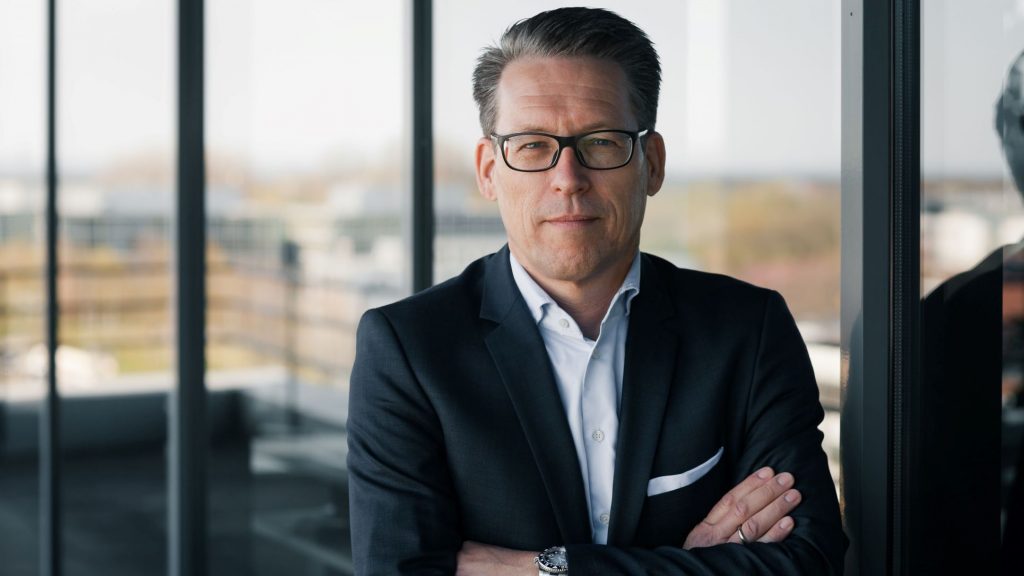 "Autonomous movers are an essential part of tomorrow's mobility—emission-free, comfortable, reliable, and, above all, inclusive," added Marco Kollmeier, Managing Director of Holon. "Holon will be the first OEM for autonomous movers with the standards and scaling potential we know from the automotive industry. With our platform technology, our vehicle expertise, and our strong partner network, it's our goal to redefine passenger transport—in both the public and private sectors."
The structure of the new brand is unique in the OEM landscape for autonomous movers, stressed Kollmeier.

"To achieve this, Holon combines the best of two worlds: we combine the speed, passion, and entrepreneurial spirit of a startup with the strength, resources, and expertise of an established automotive company," he said. "This is how we support our customers in implementing safe and environmentally friendly mobility solutions that accelerate their businesses."
The future orientation of the brand will be on display at the new company's next milestone—a presence at CES 2023 in Las Vegas in January. It will present what it describes as the world's first autonomous mover that meets automotive standards—i.e., leading in safety, driving comfort, and production quality.
In the development and deployment of the autonomous mover, Holon is working closely with various partners including Italian design company Pininfarina, the mobility provider Beep, and Mobileye, the newly spun-off Intel company. Pininfarina designed it, Mobileye is developing its automated-driving system, and Beep is adding technologies and services for the deployment and operating systems of a mobility service. Holon is providing engineering and manufacturing expertise.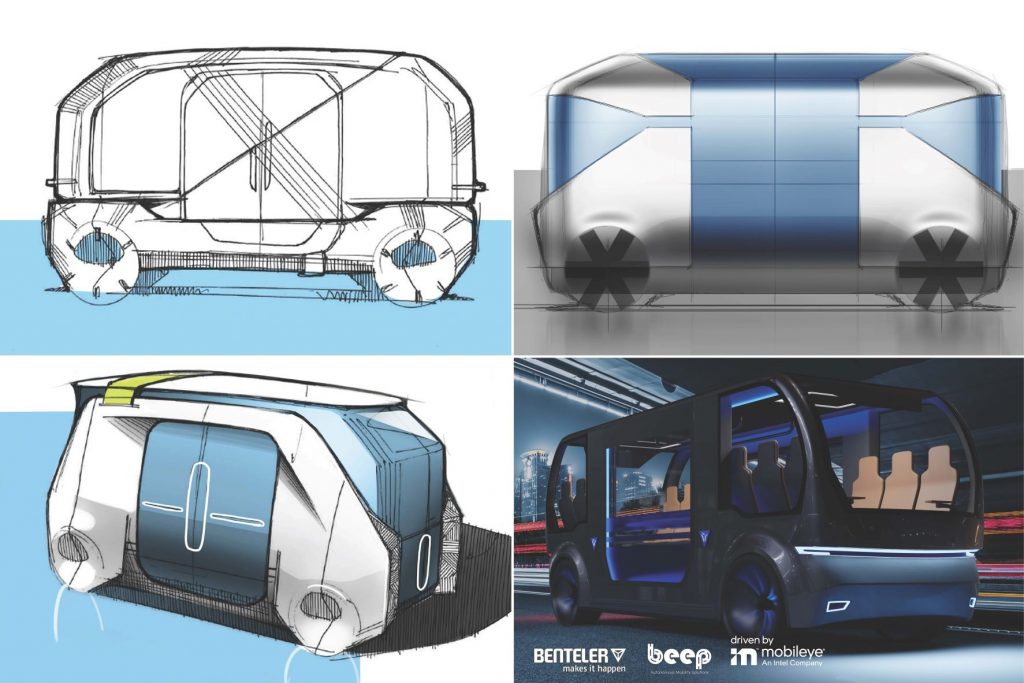 In February, the partners announced a strategic collaboration to develop and deploy automotive-grade, fully electric, autonomous movers in public and private communities across North America. The SAE Level 4 electric mover, designed to meet automotive industry and safety standards for public road use, is being underpinned by Mobileye's industry-leading Mobileye Drive automated-driving system.
"Multi-passenger micro-transit needs are ever-increasing in our cities and towns globally and must be addressed in order to reduce road congestion, protect the environment and provide safe, reliable mobility for all to access," explained Hinrich Woebcken, advisory board member for Beep and former CEO of Volkswagen North America, in February.
Benteler renamed EV Systems unit will base the vehicle on its scalable and modular platform for electric vehicles, integrating individual subsystems into the final vehicle.
"Autonomous movers are the solution for future public transportation, solving the mobility challenges of increasing urbanization and emissions," said Kollmeier. "These movers need to be robust for 24/7 public or commercial use, at optimized costs, and with excellent riding comfort."
Mobileye is a market leader in autonomous driving solutions, having shipped more than 100 million of its leading computer vision solutions for the established driving-assistance market. With one of the most widely dispersed autonomous fleets in the world, operating in Israel, Germany, Japan, China, France, and the U.S., Mobileye is proving daily the capabilities of its Mobileye Drive self-driving system.
"The full benefits of autonomy can only be reached with scale," added Johann Jungwirth, now Senior Vice President of AV at Mobileye. "Mobileye aims to mass-produce first- and last-mile self-driving mobility solutions that will enable the convenient, accessible, and safe movement of people across North America."
Beep has tested autonomous electric shuttles in many U.S. public road projects for tens of thousands of riders over tens of thousands of road miles in 2021 alone. The company has worked closely with the U.S. National Highway Traffic Safety Administration as part of its autonomous vehicle test programs and is applying those years of learning to assist in the design of the new platform with an emphasis on safety.
"Beep's well-established U.S. footprint for our autonomous mobility operations model, which incorporates machine learning, contextual route intelligence, and Beep's existing centralized command center platform…," said Joe Moye, CEO of Beep.
Targeted customer applications for Holon and its partners are public transport companies, municipalities, and private institutions such as campuses, airports, and national parks. Another field is the growing last-mile delivery transport sector, with Holon aiming for that need with special autonomous transport variants in the future.
The shuttles are scheduled to go into production in the U.S. starting in 2025, with the ambition to roll out the mover to other countries helping deliver the mobility of the future. The first pilot applications are to be announced in the coming months and will commence in 2023.
Benteler and Holon are also examining the possibility of working with other strategic partners and investors for the new company to further increase its growth potential.