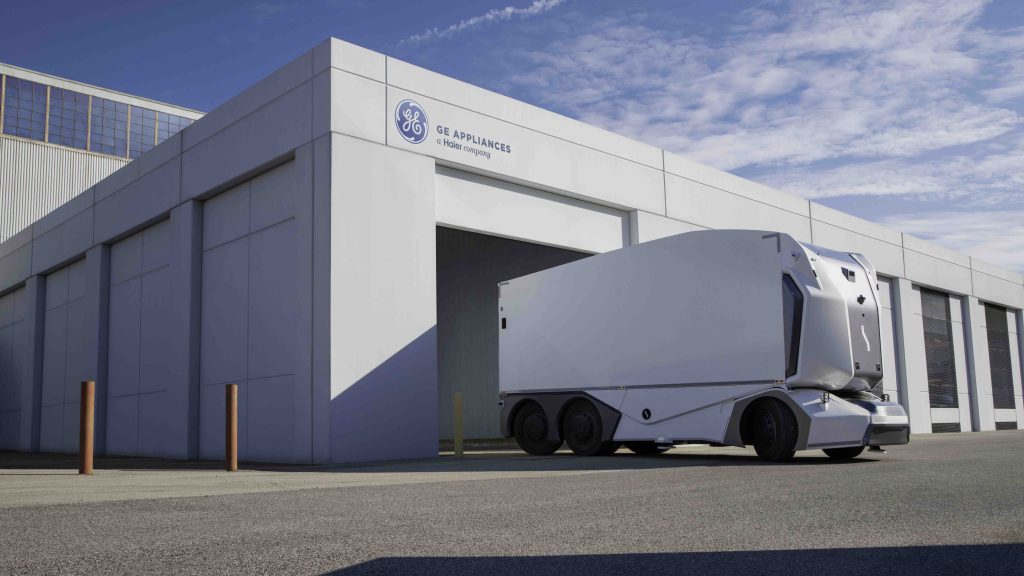 GE Appliances and Swedish freight technology company Einride aim to develop the first U.S. fleet of autonomous electric trucks, the companies announced Oct. 26.
Founded in 2016, Einride currently operates Europe's largest fleet of electric trucks and works with industry giants such as Coca-Cola, appliance giant Electrolux and German grocery store chain Lidl in Europe. Since October 1, 2020, Einride's partners have seen a 90% decrease in carbon dioxide emissions with electrical transport, while matching the cost of diesel.
"At GE Appliances, we believe in always finding a better way and striving to be on the forefront of innovation," Bill Good, vice president of manufacturing at GE Appliances, said in a statement. "Sustainability and cost-efficiency is a prerequisite for implementing innovation into our business strategy. The partnership and technology investment with Einride is allowing us to deploy safer, more sustainable, and cost-effective solutions for the movement and transportation of material."
Einride became the world's first company to operate a driverless electric freight vehicle on a public road in 2019. The new partnership will bring Einride's autonomous electric vehicles, called Pods, to the United States for the first time.

"This marks an important milestone for the freight industry in the U.S., as it's the first time an autonomous, electric, and remote-operated pod system is being installed on the scale in North America," Robert Falck, CEO of Einride, said in a statement. "The system will allow GE Appliances to reduce its environmental footprint and reap the benefits of Einride's world-leading technology." 
Most self-driving vehicles receive designations along the lines of the SAE levels of driving automation, ranging from purely assistive (level 0) to able to drive anywhere on their own under any conditions (level 5). However, these standards rely on some level of human operation as a baseline. In contrast, the Pod has no driver's cabin whatsoever. As such, Einride developed its own methodology for describing the use cases for Pods.
"The Pod is a completely novel vehicle, and therefore doesn't fit into existing standards, even for cutting-edge technologies like autonomy. We created the AET classification system based on use cases for a driverless, electric freight vehicle. With this approach, we are able to develop and scale our capabilities in the most common and appropriate use cases for freight, with the ultimate goal of automating as much of the transport network as possible," said Pär Degerman, CTO of Einride.
The autonomous electric transports (AET) classification system ranges from levels 1 to 5, with levels 1 to 4 available for pre-order. Businesses can currently get access to AET 1 and 2, and reserve AET 3 and 4 with deliveries in 2022 to 2023.
* AET 1 (Fenced) allows operation on closed facilities with predetermined routes and a controlled environment at speeds of up to 20 kilometers per hour. 
* AET 2 (Nearby) includes closed facility operation, but adds the capability to traverse public roads over short distances between destinations at up to 20 kilometers per hour. 
* AET 3 (Rural) allows operation on backroads and less busy main roads between facilities at up to 45 kilometers per hour. 
* AET 4 (Highway) includes fully autonomous operation on freeways and other major roads at up to 85 kilometers per hour. 
* AET 5 (City) allows operations on local roads in residential or commercial areas with high traffic intensity at up to 85 kilometers per hour.
Einride will provide electric vehicles at three of GE Appliances locations in Kentucky, Tennessee and Georgia, including its Pods on GE Appliances' 750-acre Appliance Park campus in Louisville, Kentucky. The partnership is expected to save GE Appliances 970 tons of carbon dioxide emissions within the first year.
Einride's deal with GE Appliances — a unit of Chinese home appliance company Haier since 2016 — helped mark the launch of Einride's U.S. operations. In conjunction with this launch, Einride also signed Ericsson and Siemens as technical partners, tiremaker Bridgestone as a customer and Swedish vegan milk maker Oatly as a potential customer.
"The innovative spirit of the U.S. is the standard by which all others are measured, and the American transportation market is the biggest in the world," Robert Falck, founder and CEO of Einride, said in a statement. "The U.S. freight market is one of the most competitive and to be an industry leader you need to play in this league. We have the technology and solution to bring the biggest change in the freight industry since the adoption of the diesel truck 100 years ago."
The U.S. launch also saw Einride launch a new range of global products, including the new Flatbed Pod, for transporting containers from shipyards and other shipping needs;  a U.S. version of the Einride Pod adapted for U.S. roads and conditions; and Einride Saga, its operating system for moving freight. Einride said it has also hired its first remote pod operator, who can oversee and control multiple pods in real time.