An electric, driverless Pod has taken the high road to solve three growing problems for England's famous and extremely scenic Lake District: traffic congestion, deteriorating air quality and transport connectivity.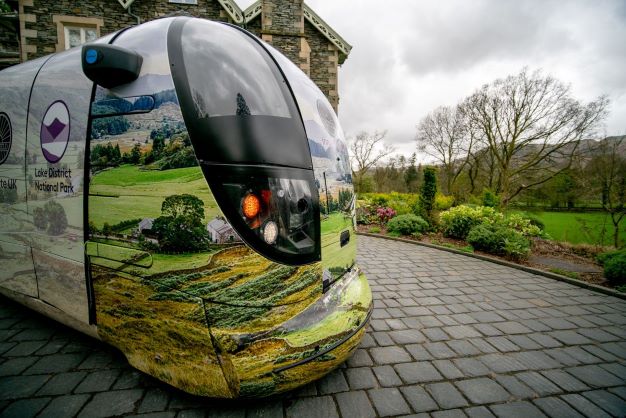 The Pod, designed and built by Westfield Technology Group, currently runs from the Brockhole Visitor Centre, near Windermere. Unlike many driverless shuttle experiments, it has advanced to the point where it doesn't doesn't feature a safety steward on board.
It integrates a range of sensors, radar and AI to navigate crowded areas and to scan the area looking for information. If an object, animal or person moves in front of the POD it will be detected and the vehicle will slow down or stop. The computers on-board can ensure the vehicle brakes faster and anticipates changes in road conditions that are imperceptible to the human eye.
England's Lake District National Park works to protect and maintain the National Park environment whilst also encouraging visitors to enjoy the area. This Pod driverless touring vehicle project is part of wider work to reduce carbon emissions and enable people to travel sustainably.

The PODs are electric and in future will be on-demand, offering a sustainable, flexible and convenient mobility solution. This trial is to see how we could take advantage of this technology to reduce carbon emissions, enable people to get around the Lake District without a car and improve the quality of life for people that live here and the 19 million visitors arrive every year.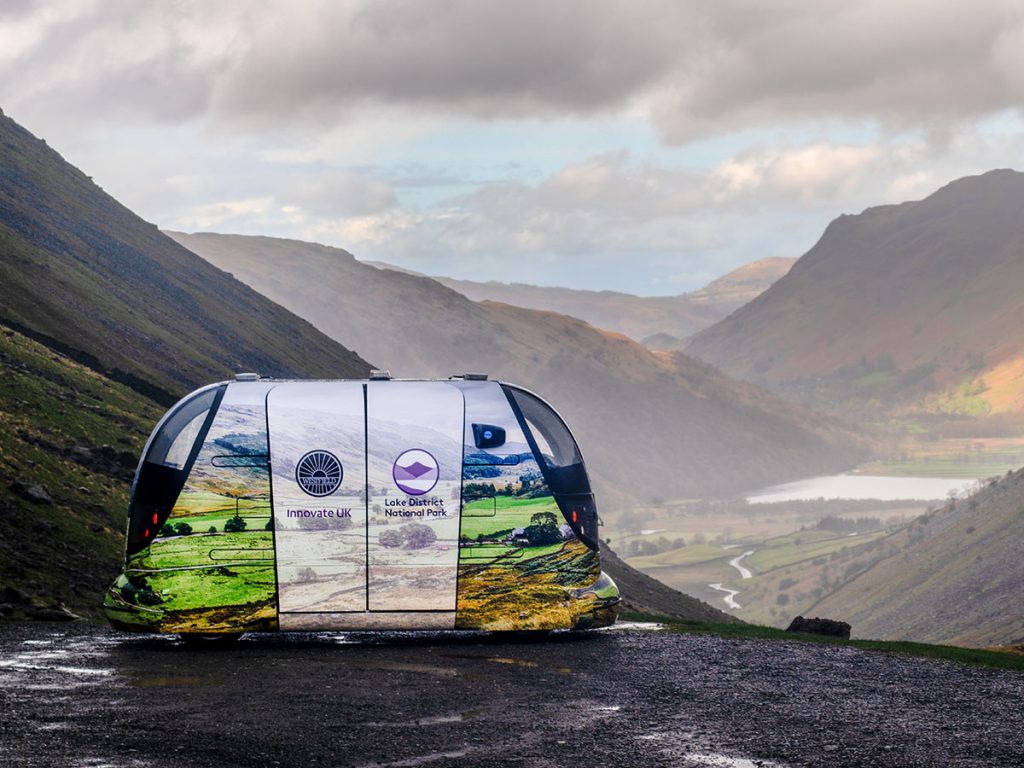 In 2020, the Park installed a solar panel canopy to power electric vehicle charging points, and there are plans to draw energy from the lake as well, sometime in 2021. The Pod carries a 48-volt battery and the vehicle range is approximately 100 kilometers per charge.
"It is working beautifully," Westfield chief executive Julian Turner said. "We had the system thoroughly tested by independent parties Nexor (cyber security), Loughborough and AECOM for its technical operation, Burgess Salmon for the legal framework and Axa for the insurance and the results told us that this would be a successful trial of the technology in the beautiful environment of the Lake District National Park. Feedback from thousands of visitors has been extremely positive too, which makes us all really proud."
With the Lake District attracting more than 19 million visitors a year, most arriving by car, congestion, air quality and transport connectivity issues loom large. The Pod could provide an answer to all three.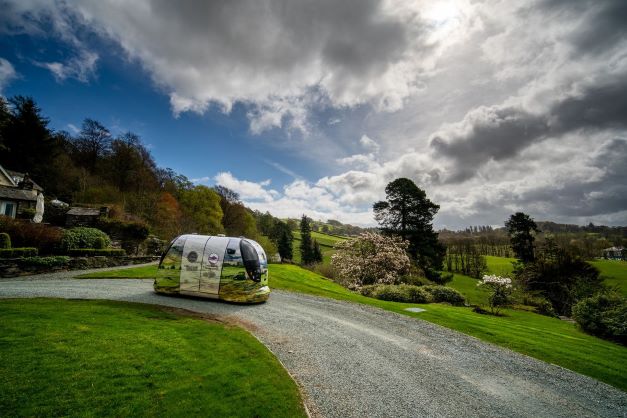 "Plans are already in place to deploy this technology on a larger commercial scale in the near future," added Turner .
The Pod itself contains biocomposites in the bodywork made from linseed oil and hemp, while a solar panel in the roof helps charge it while it is moving. The vehicle is also equipped with the latest voice recognition technology to allow the visually impaired to feel more confident about the technology.
Many of the team who made the concept a reality were students originally recruited from Harper Adams University in Shropshire, Salford University, Cranfield University and Dudley College.
Westfield is also known for its niche sports cars, with over 20,000 sold worldwide. "While there are some obvious differences, the technology between the two are actually very similar," added Mr Turner. "They both benefit from the same space-frame chassis and fibre-glass body. All we have done is take our sports car technology and implement it into the passenger transport arena, whilst extending its autonomous capability."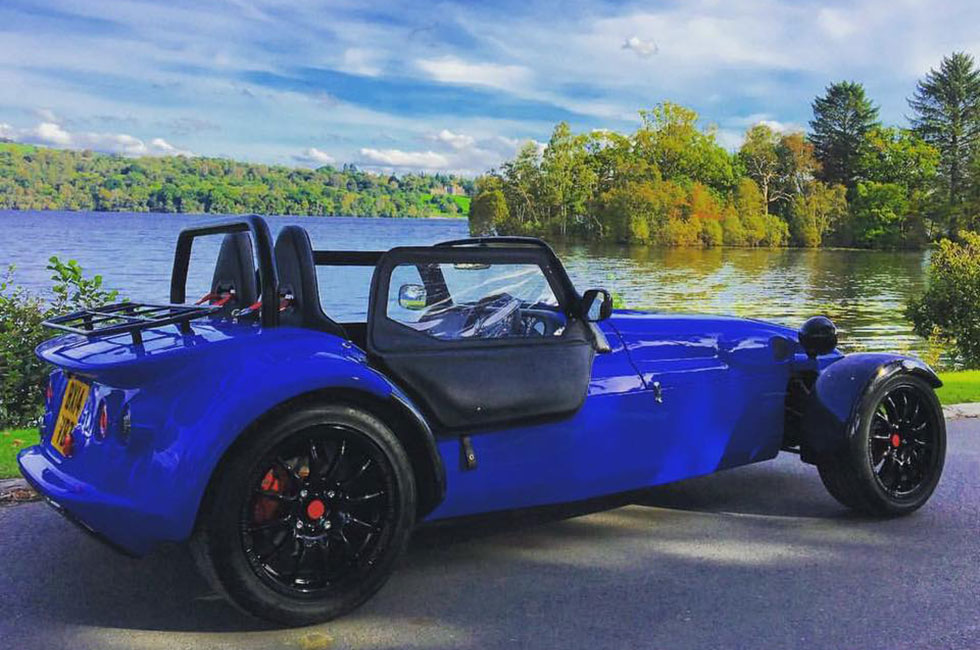 "As a nation, we are consuming things 12 times quicker than we are creating them, so something has got to change," he added. "If you look at the whole life cycle of a typical car, it is just not an environmentally-friendly process, being manufactured in different parts of the world, being shipped over on a boat and incorporating a higher total life-cycle cost. I just can't see a more efficient way of building or maintaining a vehicle than our Westfield Pod. We believe it will leave an impression on passenger travel for many, many more years to come."
Other Westfield placements of the POD include:
London Heathrow Airport, where the POD has been moving passengers from the carpark to the door of Terminal 5 Departures in 6 minutes since 2011. The same service, if provided by bus, would take 27 mins. The POD is designed to be used for first mile – last mile transportation.
The Greenwich Intercontinental Hotel to Greenwich Peninsular transport hubs. Although an amazing hotel, the management were concerned about the arrival experience of its guests, as it is currently very difficult to travel to the hotel by taxi due to the locations of some of the transport hubs, as there are no public access roads, therefore a walk with luggage/children is required. The POD however can complete the journey in under 5 mins.
At University Hospital Birmingham goods and people are currently moved around using porters. These porters are not fully utilized, not being called upon until needed to transport vast amounts of goods and people within the hospital and around the connecting sites. The POD can support this process in a timely and cost-efficient manner, taking heavy loads off the porters at peak times, so they can assist with more urgent matters.