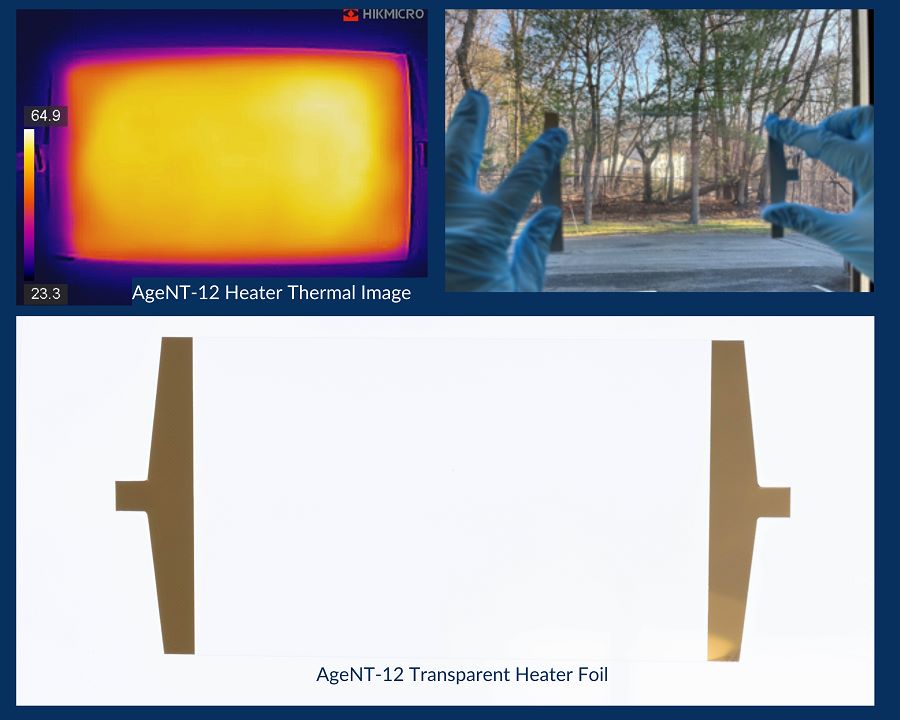 At the AutoSens Detroit 2023 conference and exhibition this week, carbon nanotube (CNT) innovator Chasm Advanced Materials launched what it calls the world's first transparent heater foils for all ADAS (advanced driver assistance systems) sensors. The technology enables camera, lidar, and radar sensors to better operate in inclement weather conditions such as snow, rain, and ice that would otherwise hinder their operation.
The AgeNT heater foils integrate single-wall CNTs and metal micromesh for optoelectronic performance that surpasses other CNT or alternative technology products. The foils can deliver rapid and uniform heating over the entire camera lens, lidome, or radome surfaces.
They are highly transparent, with no visible wires, and are highly stable during temperature, humidity, and UV aging tests. Being compatible with standard 12-V automotive systems makes them easy to integrate into existing vehicles, unlike other emerging technologies that struggle to provide enough power density at standard voltages. The heaters can be mass-produced at low cost, making them an attractive solution for automotive manufacturers and suppliers.
Traditional heating technologies using embedded metal wires have limitations. The visible wires can obstruct views, cause resolution loss, and generate uneven heating, hotspots, thermal gradients, and high local temperatures. This makes them inadequate for high-resolution camera sensors, long-range lidar, and high-resolution radar, says Chasm.

In contrast, Chasm's AgeNT transparent heaters provide better optoelectronic performance including greater than 90% total light transmittance through the heater foil stack for visible light, 905- and 1550-nm wavelengths, and less than 0.1 dB radar attenuation at 77 GHz. They offer faster and more even heating, with minimal negative effects on sensor visibility, and meet stringent environmental stability testing including 1000 h at 85°C/85% RH accelerated life test.  
The technology better enables the ADAS sensor technology trend of integrating multiple sensors of different types into more single compact modules on vehicles, an approach known as sensor fusion on the package or multi-functional sensor integration. By ensuring that the transparent heater does not interfere with sensors, manufacturers can create more compact and efficient modules that improve the accuracy and safety of ADAS systems during inclement weather conditions.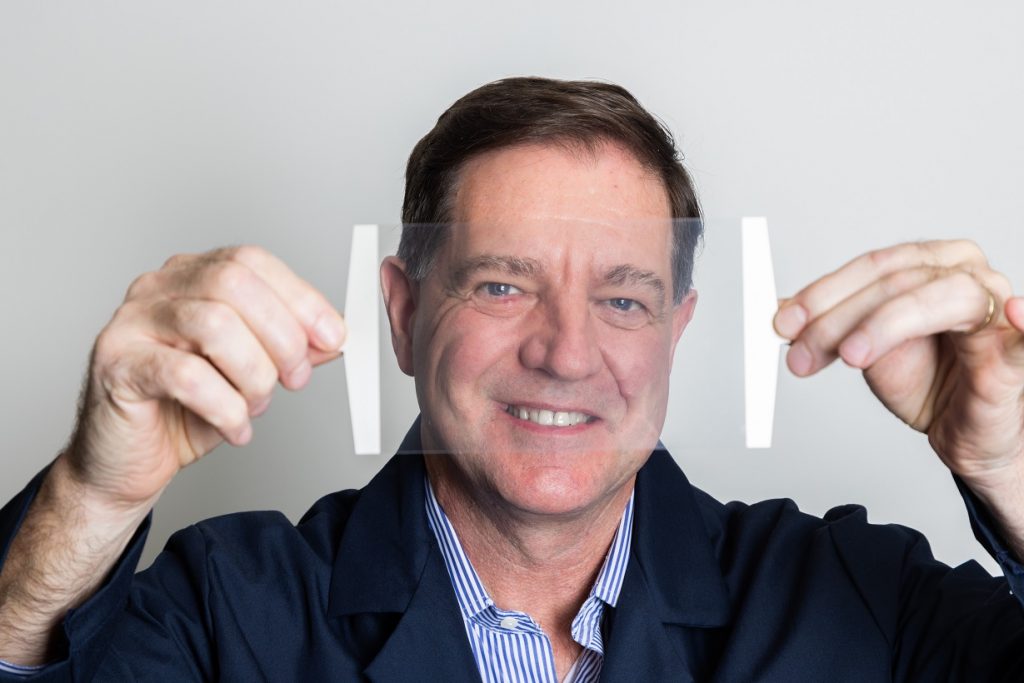 "We are the world's first universal solution for ADAS sensors," said David Arthur, Chasm CEO, at AutoSens. "Other heater foil technologies might be transparent for some of these cases, but not all three of them. And they are very challenged to de-ice within five minutes at the industry standard 12 volts."
The same transparent heater foil can work with camera, lidar, and radar. Arthur showed a "cluster solution" where radar and camera sensors can sit behind a heated radome, "and both of them work just fine."
While Chasm is a new player in the automotive industry, the company is a veteran in the carbon nanotube industry, says Arthur. Its supply chain is designed to provide a transparent conductive film, which is comprised of carbon nanotube inks printed on top of a copper micro mesh and supported by a 100-micron-thick clear plastic film.
"It's a very thin-film solution," said Arthur.
Co-founded in 2005 by CEO Arthur and COO Robert Praino, Chasm offers flexible heater circuits, pre-coated transparent conductive films for heaters, and patented V2V CNT-based ink to meet the requirements of suppliers and OEMs. The company has introduced the technology to leading Tier 1 suppliers, auto OEMs, and major sensor producers, with many commercial programs said to be set for production soon.
The company provides in-house rapid prototyping and early-stage production of transparent heater foils for safer and autonomous driving and transparent antennas for 5G and beyond. Company execs claim they can take a solution from concept to functional prototype in six weeks.