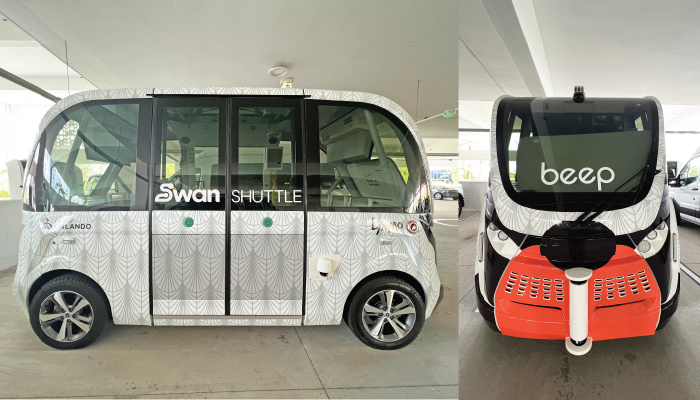 Autonomous shared mobility provider Beep has launched an autonomous shuttle pilot program in Orlando, the company announced earlier this month.
In partnership with the City of Orlando and the Central Florida Regional Transportation Authority (LYNX), Beep will operate the pilot for six months in downtown Orlando's Creative Village.
The pilot, called the SWAN Shuttle (Shuttling With Autonomous Navigation), will provide the city and LYNX data to guide Orlando's transportation strategy on how shared, electric and autonomous vehicles can enhance accessibility, improve the quality of life for residents and ensure the city remains future-ready and sustainable, the city noted.
"The City of Orlando believes communities must be connected to thrive, and so we are always looking at new ways to embrace creative, innovative ways to do this," Orlando mayor Buddy Dyer said in a statement. "With the expansion of autonomous vehicle shuttles into our neighborhoods, we can converge cutting-edge technology with new mobility solutions to further redefine the way our community moves. The SWAN Shuttle builds on our diverse network of mobility options and furthers our commitment to our residents, our environment and our future."
The fare-free SWAN Shuttle is accessible seven days a week starting on August 20. The roughly one-mile route will have five stops connecting LYNX Central Station and SunRail to UCF/Valencia Downtown, Luminary Green Park, Electronic Arts and Parramore and Creative Village. The shuttles will operate in the existing bus lane dedicated to the LYMMO Orange Line in the early afternoon and evening from 10 a.m. to 2 p.m. and 6:30 p.m. to 10:30 p.m.
"We move thousands of customers each and every day," LYNX CEO Tiffany Homler Hawkins said in a statement. "This partnership is an innovative way to test technology and understand how it will benefit our riders in a real-time setting that we believe will benefit the community for years to come."
Orlando-based Beep has extensive prior experience in safely deploying and testing autonomous shuttles in communities from Florida to California, including the country's largest and longest-running autonomous shuttle network in Lake Nona, a living lab and master-planned community in the City of Orlando.
"We are proud to be part of a forward-thinking and innovative community committed to the investment in technology that will improve the quality of life for its residents and the livability of our city," Beep CEO Joe Moye said in a statement. "Our partnership with the City of Orlando and LYNX provides the collaboration necessary to ensure autonomous vehicles are tested safely so that we can incorporate community feedback and prepare for the coming era of autonomous electric transportation, which will improve road safety, decrease carbon emissions and extend mobility to everyone."