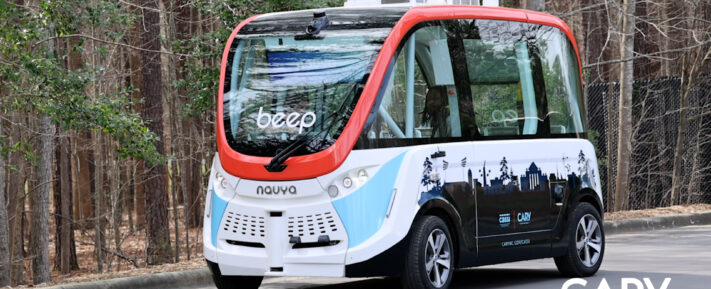 Autonomous shared mobility provider Beep is partnering with North Carolina to test autonomous shuttle projects across the state, the company announced March 14.
The inaugural project with the North Carolina Department of Transportation (NCDOT) launched in Cary, North Carolina's Fred G. Bond Metro Park.
"Beep is honored to have been selected by NCDOT to bring innovative autonomous mobility solutions to Cary," Beep CEO Joe Moye said in a statement. "We are pleased to be working closely with the agency on this pilot, our first in North Carolina, which will showcase how shared autonomous mobility can make a lasting positive impact in the community."
The four-stop, two-mile route will employ an all-electric low-speed autonomous shuttle to provide easy access the 310-acre park in an environmentally friendly manner. It will operate at no cost to riders from 10 a.m. to 4 p.m. Monday through Friday.
"Autonomous shuttles promise to relieve roadway congestion and help address carbon emissions, noise pollution and road safety, while extending mobility access," Moye said in a statement. "We are delighted to have the opportunity to work with NCDOT and Cary to showcase these capabilities to residents and visitors."
Operated by Lake Nona, Florida-based Beep and manufactured by France-based Navya, the shuttle relies on LiDAR, cameras, and GPS technology to safely transport up to eight passengers and an attendant along a fixed route.
"We're so excited to test this cutting-edge technology in Cary," Jerry Jensen, Cary's director of transportation, said in a statement. "There's so much innovation happening in autonomous vehicles right now, and it's a great opportunity for Bond Park visitors to see it up close. We're grateful to our partners at the North Carolina Department of Transportation for the chance to bring this pilot project to Cary."
A similar shuttle was previously piloted under the CASSI (Connected Autonomous Shuttle Supporting Innovation) program at the Wright Brothers National Memorial in Kill Devil Hills and on the Centennial Campus of North Carolina State University in Raleigh.
"The future of transportation includes shared mobility options that are as convenient, reliable, affordable, clean and as safe as driving, and allow every person equal access to opportunities and services," NCDOT Secretary Eric Boyette said in a statement. "The CASSI shuttle helps make this vision a reality."
The autonomous shuttle is wheelchair accessible and runs at speeds up to 12 miles per hour. While the shuttle operates without a driver and does not feature a traditional steering wheel or manual brakes, a trained attendant will be present at all times to take manual control of the vehicle if needed to ensure the safety of the passengers.
"Cary's staff and leaders are constantly looking ahead for signs of the next innovation," Nicole Coughlin, Cary's chief information officer, said in a statement. "We're still in the early days of driverless vehicles, but the technology is continuously improving. Through this pilot, we hope to get a sense of how autonomous vehicles might figure into future Cary projects, and to hear from riders about their experience on the shuttle. Bringing CASSI to Cary furthers our priority for innovation and imagining how new ideas can be used to benefit our citizens."
The three-month project welcomed its first passengers on March 6. The pilot will end June 2. Beep and NCDOT are working to set up additional test locations in the state.