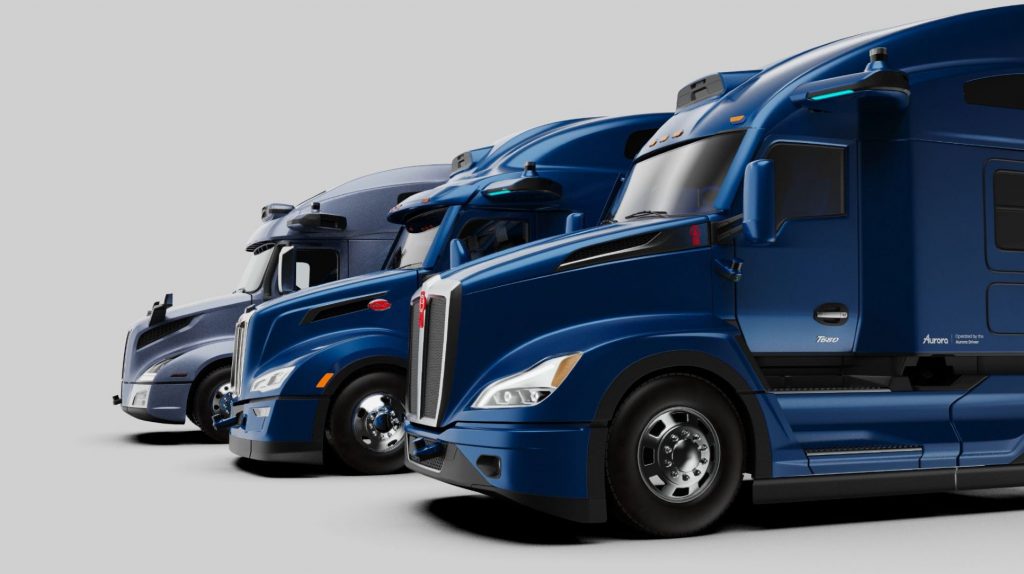 A strong business case and less complex driving mean that autonomous trucks have many market advantages over other autonomous vehicles. That's why some prominent autonomous vehicle technology companies in the industry have pivoted in that direction.
One example is Pittsburgh-based Aurora Innovation, Inc. At the company's 2022 Aurora Analyst Day in late September, CEO Chris Urmson laid out a vision for why he believes autonomy is the future of freight.
"When we set out to build the Aurora Driver, we really set out to build a driver that would work across different vehicle types," he said. "But, of course, we're focusing now on delivering Aurora Horizon—our product in freight—first."
Urmson says that "the opportunity in freight is incredible. The U.S. market is about $700 billion. When you compare this to ride-hailing today, which is about a $35 billion market, it's a much bigger opportunity."

His $700 billion number is based on a 2020 Kearney study, but it is $4 trillion globally, according to Aurora, based on 2019 data from Armstrong & Associates.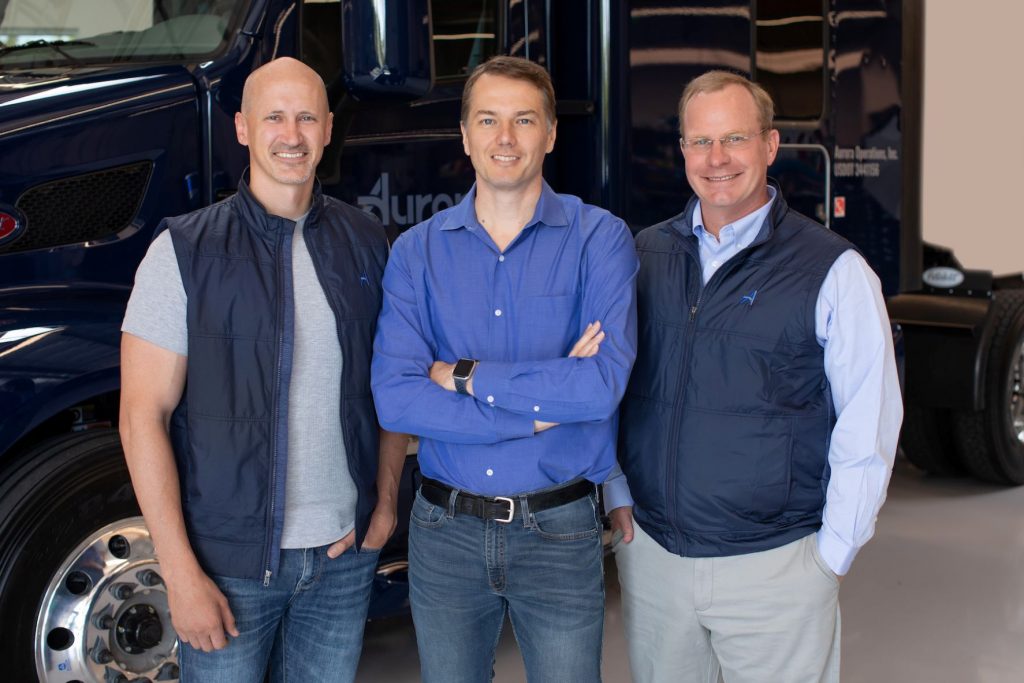 The Aurora Driver
Aurora has been working on autonomous vehicle technology since it was co-founded in 2017 by Urmson, Chief Product Officer Sterling Anderson, and Chief Scientist Drew Bagnell. The company is planning to launch its first product, Aurora Horizon, for subscription-based autonomous trucking at the end of 2024.
In February, Aurora marked its first full year as a public company with a business review of 2022. It updated investors and others on both the building of its Aurora Driver, the company's self-driving system, and the commercialization of Aurora Horizon upon which it relies.
"We furthered these goals in the fourth quarter with our Aurora Driver Beta 5.0 release, which we believe puts us on track to achieve our critical feature-complete milestone by the end of the first quarter of 2023," said Urmson. "At the same time, we've also continued to strengthen our operations, and we've made steady progress with our OEM partners on autonomy-enabled truck platforms to support our planned commercial launch by the end of 2024."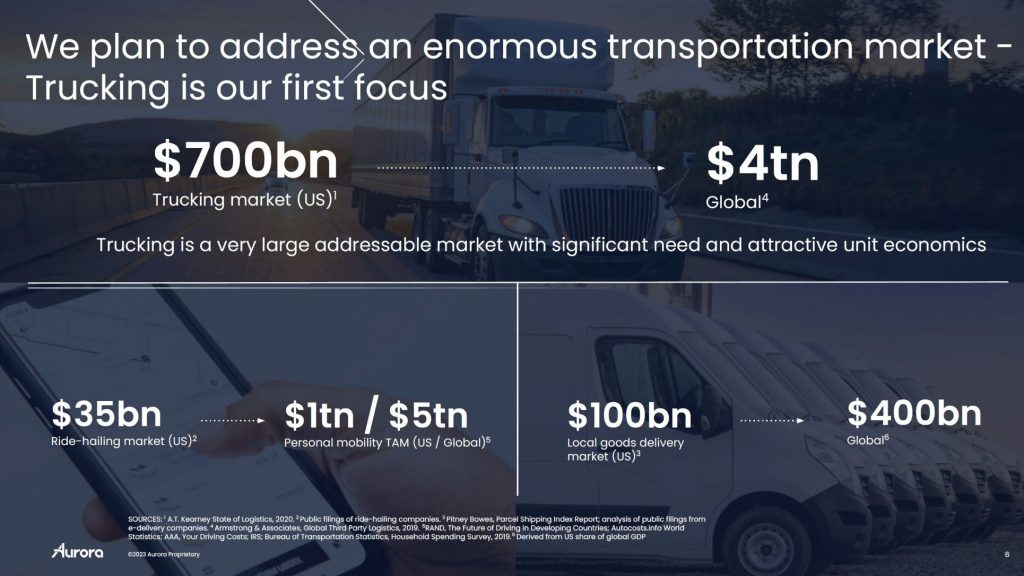 The Aurora Driver is an SAE Level 4 self-driving software and hardware platform. Over the past 18 months, the company has released five beta versions, with the feature-complete Aurora Driver Beta 6.0 scheduled to be released at the end of the quarter.
The initial beta release introduced foundational driving capabilities such as merging and lane-changing at highway speed and unprotected left-hand turns. Aurora built upon these in 2022, enabling increasingly complex capabilities each quarter including construction zone navigation (Beta 2.0), a Fault Management System (FMS) for safely pulling over to the shoulder system problem (Beta 3.0), and dealing with debris on the road (Beta 4.0).
The fourth-quarter release of Aurora Driver Beta 5.0 introduced new capabilities to detect and appropriately respond to emergency vehicles like ambulances, fire engines, and law enforcement vehicles. Emergency vehicles do not always behave predictably or follow customary rules of the road, so the proper response by a self-driving vehicle is critical to safety.
When the Aurora Driver perceives an emergency vehicle on the shoulder ahead, it knows to slow down or change lanes according to Texas laws. Like most autonomous truck tech companies in the U.S., the Lone Star state is either a base of operations or a host for key truck freight "lanes."
For an active emergency vehicle ahead of or behind the truck, the driver alerts a specialist in a command center via the Aurora Beacon could-based mission control system for additional teleoperation guidance, including coming to a stop off the roadway if necessary.
Beta 5.0 also established the ability for the Aurora Driver to reenter traffic from the shoulder, building on the FMS introduced last year. Completing this end-to-end flow of pausing and resuming operations while en route is a mission-critical capability, said Urmson.
Construction is one of the biggest challenges an autonomous vehicle faces while operating on the highway, he added. New road signs, changing traffic patterns, and varying road blockages create situations that require a specific capability set. One of the most common situations faced is the need for a truck to deviate from the current lane due partially or completely to construction barriers, which may include driving on the shoulder of the road.
With the Beta 5.0 release, Aurora built on previously released capabilities that address construction scenarios, introducing the ability to navigate lanes with temporary barriers. Company engineers extended the distance that the Aurora Driver is able to "nudge" around obstacles outside of the current lane, including driving partially on the shoulder for an extended period of time. These capabilities equip the driver to handle more construction scenarios it may encounter while hauling commercial loads for customers.
As this was written, the company was building on the Beta 5.0 release to enable its feature-complete milestone expected at the end of the first quarter of 2023. That Beta 6.0 version identifies and responds to collisions with other vehicles or property and responds to "out of domain" scenarios.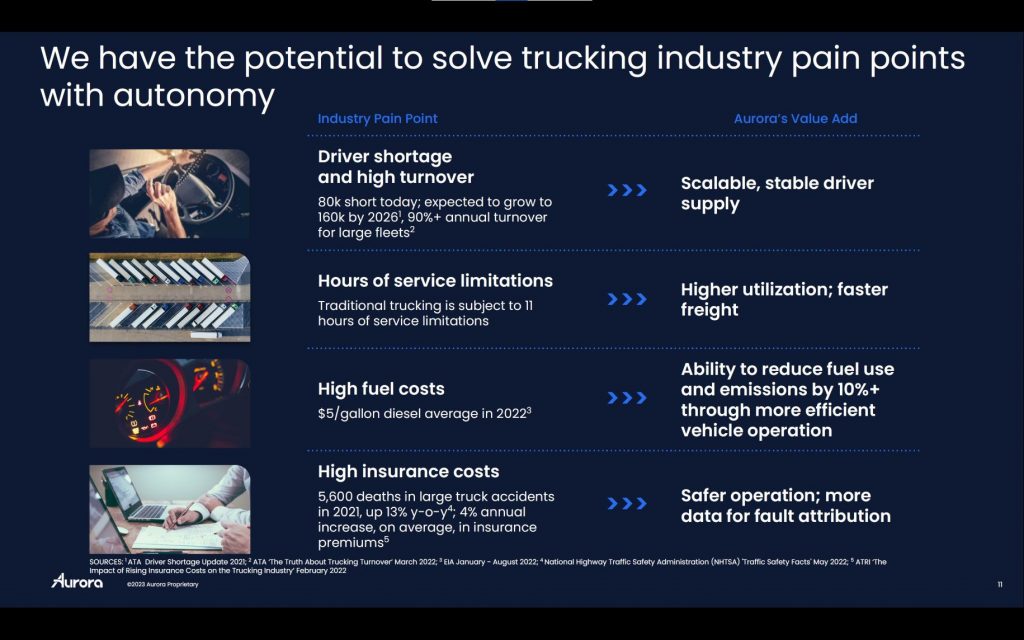 Scalable hardware progress
While continuing to advance its software, the company is simultaneously maturing the Aurora Driver's hardware to support the commercial launch and taking steps toward a longer-term scalable hardware kit. During the fourth quarter, engineers demonstrated the performance of a prototype of the company's proprietary FirstLight lidar using an in-house designed silicon photonics chip.
"The ability to consolidate fragile fiber-optic cables within complex assemblies and into silicon chips, each the size of a fingernail, is a key step toward a fully integrated FirstLight lidar," said Urmson. "Our silicon photonics are designed to create a clear path to our longer-term cost and reliability targets for FirstLight at scale."
Urmson stressed the significance of the silicon-based lidar technology and its positive effect on the cost of the system over time.
From a technology point of view, it is "the equivalent of moving from discreet components in electronics into an integrated circuit," he said. "It's the same type of approach that we're using, but with optical components instead of electrical components."
Instead of having a significant amount of labor and cost in components, Aurora can print the silicon effectively at a fab and get dozens on a wafer. The upgrade makes the unit economics and reliability for lidar dramatically better. Urmson sees this as a strategic investment as the company scales its business.
"If you look at the cost structure of delivering the Aurora Driver, the largest part of that certainly, early on, is the hardware costs," he said. "And within the hardware costs, the computer and the lidar are the two largest pieces of that. This is one of the biggest steps we can take in reducing that cost."
Urmson didn't provide specific cost reduction numbers but did provide some context.
"You can think of that as a meaningful fraction reduction," he said. "I don't know if it's quite an order of magnitude, but it's probably in that ballpark."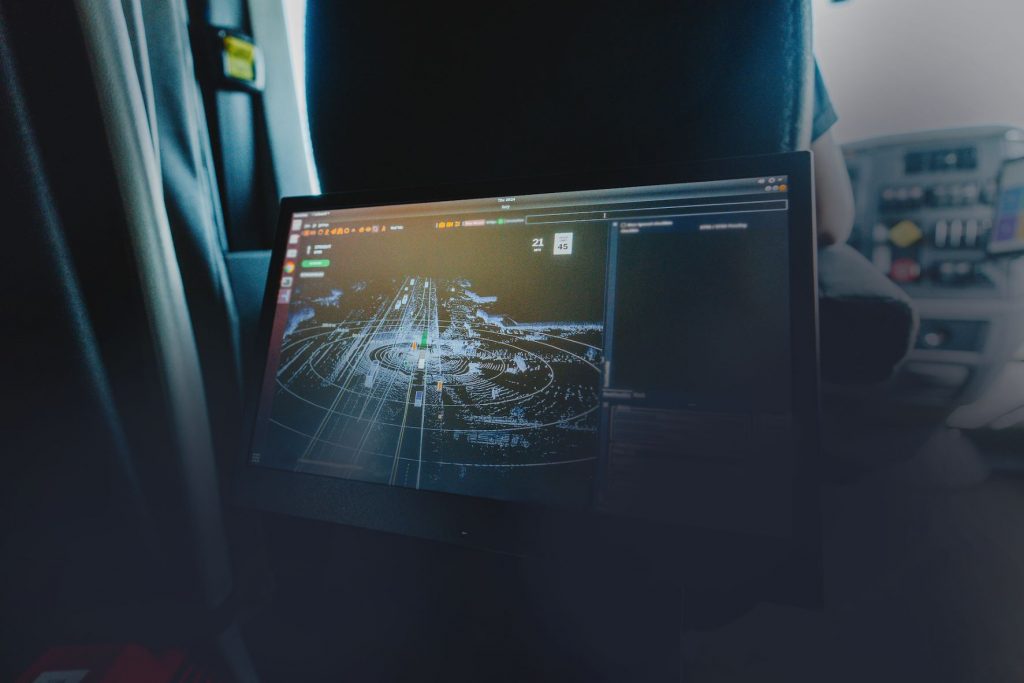 Collaborations and operations
Aurora wants to put the Aurora Driver into multiple vehicle types, with investors like Toyota, Volvo Trucks, Uber, PACCAR, and Amazon backing the effort. The company has OEM partnerships with Toyota for passenger cars and PACCAR and Volvo, two of the three largest truck OEMs.
In the fourth quarter, it worked with PACCAR to build an important prototype of its truck platform designed specifically for autonomous commercial scalability. The joint development of a Peterbilt 579 equipped with the Aurora Driver was showcased by PACCAR at the 2023 Consumer Electronic Show.
A prototype Volvo VNL with Aurora Driver hardware was showcased at the American Trucking Associations' Management Conference & Exhibition in October. It highlighted the company's development with Volvo Autonomous Solutions (VAS) on an autonomous VNL featuring enhanced control interfaces for braking, steering, and power systems to achieve the reliability needed for safe driverless operations. In the fourth quarter, VAS and Aurora customer Uber Freight announced a strategic partnership that involves the planned deployment of Volvo's autonomous transport solution on Uber Freight's network.
For Aurora's truck customers, it is autonomously hauling freight in Texas for FedEx, Uber Freight, Werner, and Schneider—with U.S. Xpress and Covenant Logistics as collaboration partners.
In the fourth quarter, Aurora exceeded its target to autonomously haul 30 loads per week for pilot customers and, as of the February call, had already achieved a first-quarter goal of 40 loads per week well ahead of schedule. Customers' continued increase in Aurora Horizon usage allows the company to further leverage commercial runs to help offset the cost of development and validation of the Aurora Driver while operating in a commercially representative setting.
"Cumulatively to date, we have autonomously delivered under the supervision of vehicle operators 1150 loads, driving 324,000 miles, with 98% on-time performance for our pilot customers including FedEx, Werner, Schneider, and Uber Freight," said Urmson, during the investor call. "Additionally, our commercial-ready terminals offer partners a defined flow and a complete end-to-end experience, allowing them to see how easily Aurora driver-powered trucks can be integrated into their networks."
Aurora also announced a strategic collaboration with Ryder in the fourth quarter to pilot an onsite fleet maintenance program. This will put Ryder technicians on the ground at Aurora's terminal in Dallas to provide inspections, maintain trailers, and help minimize downtime. Through this collaboration, Aurora aims to reduce maintenance costs and unlock higher utilization to bring added value to its pilot customers and further position Aurora Horizon for autonomous operations at scale.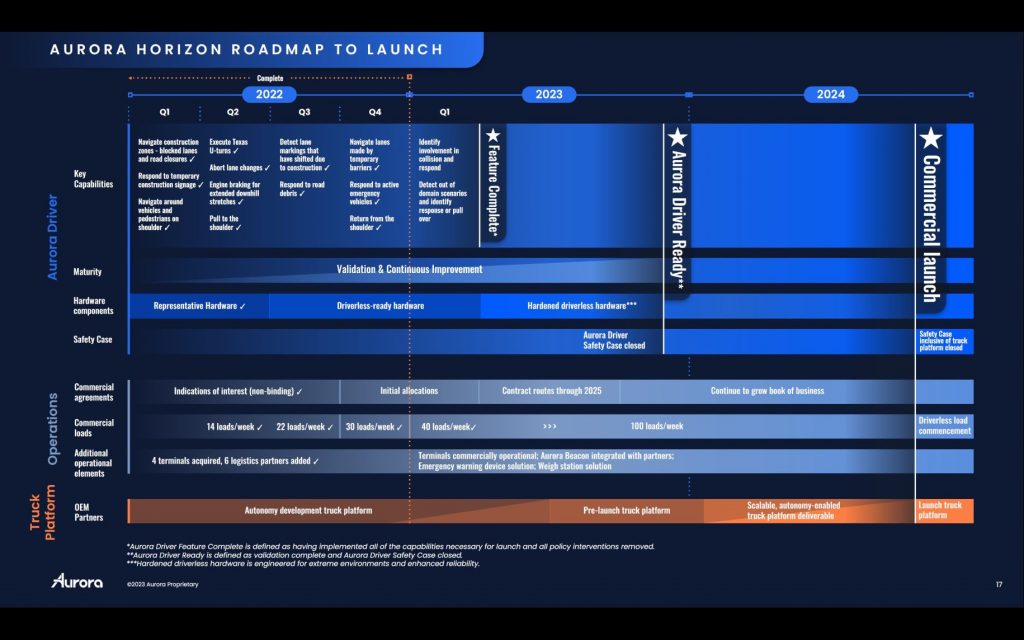 Commercialization up next
After the Aurora Driver feature-complete milestone, the next stage is preparing for commercialization, said Urmson.
"I'm excited to share that the first lane that we plan to launch the Aurora driver on is Dallas to Houston," he said. "Once the Aurora Driver is feature complete, this will indicate that we have implemented all of the capabilities necessary for the Dallas to Houston launch lane and removed all policy interventions for this route."
Following this step, the company plans to enter the final phase of refining the Aurora Driver's performance through subsequent beta releases and completing the necessary validation to close the safety case to operate without a person on board by the end of 2023. The completion of this milestone is called Aurora Driver-ready.
The Common Core architecture of the Aurora Driver will allow the company to deploy the Aurora Connect driverless ride-hailing product in quick succession as it actively works with Toyota and Uber to launch autonomous Toyota Siennas to move people.
Along the way, Aurora is working closely with regulators, elected officials, law enforcement, and local communities to drive momentum for self-driving commercialization.
"We had an exciting development last quarter in Pennsylvania, which started 2022 as one of the few states where self-driving vehicles were not permitted to operate without a human driver," said Urmson. "Through continuous engagement, we helped shape legislation that was signed into law in November, unlocking the state for driverless testing and deployment of passenger vehicles and trucks."
The company's commitment to its home state of Pennsylvania and workforce education was underscored by the Robotics and Autonomous Engineering Associates degree program it recently launched in partnership with Pittsburgh Technical College. The program is designed to support local communities and open the door to unique jobs expected to be created by the autonomous vehicle industry. The company is working to replicate it with several institutions across the country.
Beyond Pennsylvania, Urmson said Aurora is encouraged by the continued progress in California toward permitting the deployment of autonomous trucks in the state. Following the open letter submitted by the AV industry to Governor Gavin Newsom last summer, the state held a workshop last month to discuss modifying regulations around heavy-duty autonomous vehicles.