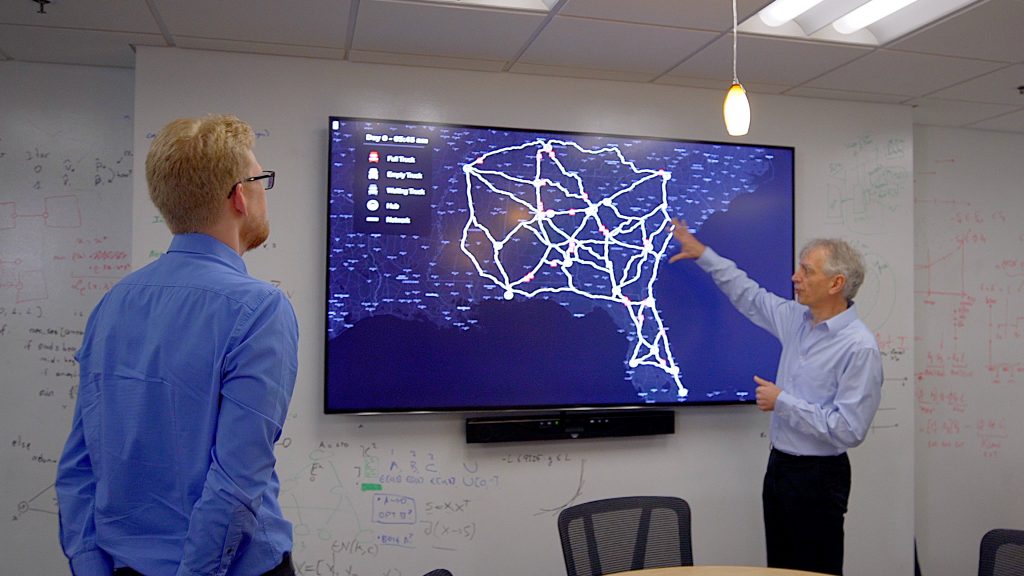 Autonomous trucks could help reduce transportation network costs by 29% to 40%, according to a study from Ryder and researchers at the Georgia Institute of Technology.
In what the company and Georgia Tech call the first data-driven study on autonomous trucking's potential impacts, the researchers analyzed real-world data from Ryder's dedicated transportation network in the southeast United States. They adapted research the Georgia Tech scientists previously used to examine first- and last-mile problems in public transportation to help provide equitable, efficient, and low-cost public transportation options.
"We have been focusing on people mobility and had not looked at other types of transportation," Pascal Van Hentenryck, a professor and associate chair for innovation and entrepreneurship at the H. Milton Stewart School of Industrial and Systems Engineering at Georgia Tech, said in a statement on Nov. 2. "So when Ryder came to us, we were very interested to see if the techniques that we were using for people could apply more generally to freight. In this project specifically, we are looking at how adding autonomous vehicles could unlock additional value."
The researchers designed a roadmap for commercialization of autonomous freight transportation that combined autonomously driven trucks on highways with conventional human-driven trucking operations for the first and final miles. They also developed optimization models for routing and dispatching, and evaluated the proposed autonomous network by comparing it with existing operations under various assumptions. 

"Safety is especially important to our researchers and to Ryder, and we take it very seriously," Van Hentenryck said in a statement. "Keeping the autonomous trucks on the longer-haul middle leg, and human drivers in the first and final legs, schedules autonomy on lengthy, often overnight trips, and places drivers in dense environments where there are many other variables at play like left-hand turns, stop signs, pedestrians, and so on."
The research suggested this proposed autonomous transfer hub network could reduce a large transportation network's costs by 29% to 40%, depending on the price of autonomous trucks as well as the direct and indirect cost of operating them.
"I've worked on a lot of different transportation problems in the past, and if you have 1% improvement that's magic," Van Hentenryck said in a statement. "Here we're talking about 29 to 40%, so it's massive. It's really massive."
The researchers noted that in Ryder's dedicated transportation network, trucks and drivers are committed to specific customers. "While that particular transportation model guarantees capacity 24/7, it also creates situations where our customers' trucks haul empty trailers," Karen Jones, chief marketing officer and head of new product innovation for Ryder, said in a statement.
The researchers' new roadmap and optimization models significantly reduced the number of miles driven with empty trailers, which accounted for a large part of the cost reduction.
"In the transfer hub network, there is no need to return back empty after a delivery, and there is no need to limit working hours or to return to a domicile at the end of the day," Van Hentenryck said in a statement. "As a result, only 35% of the automated distance is driven empty, compared to 50%. This means that even if autonomous trucks would be as expensive as trucks with drivers, costs would still go down by 10%."
In addition, the study discovered reduced labor costs and idle time led to additional cost savings. The researchers also found increased flexibility in delivery appointments helped keep autonomous trucks moving around the clock.
"In addition to the significant projected cost savings, I think this study is particularly notable because it is based on real-world data and addresses real industry challenges," Jones said in a statement. "It's clear that, in order to realize the full benefit of autonomous trucking, shippers, receivers, and third-party logistics will need to evolve today's operating practices to meet the needs of tomorrow's robotic trucks."
The agility of the new model also provided better reactions to supply chain disruptions, because it can adapt more quickly to new situations.
"Autonomous driving technology is poised to be incredibly disruptive to our industry in safety, service, and cost," Michael Plasencia, group director of new product strategy at Ryder, said in a statement." As such, it was clear to us that this was not something we could wait to figure out or be handed a playbook. This collaboration with Georgia Tech was an advancement in our commitment to becoming a leader in fostering innovation and bringing it to our customers."
This new study underscores the potential importance of a number of autonomous trucking initiatives Ryder has recently announced, such as partnership with Embark, Gatik, TuSimple and Waymo. The goal with these strategic alliances and this new research "is to help accelerate autonomous trucking nationwide," Jones said in a statement.