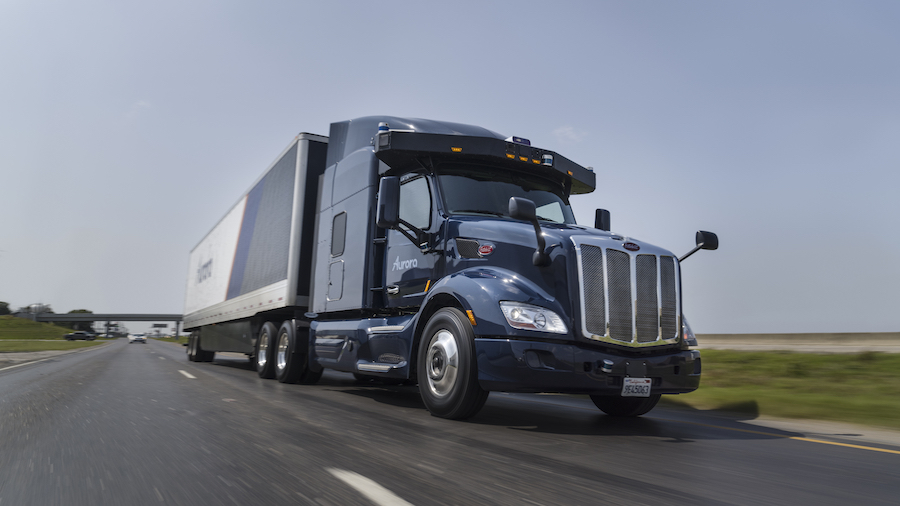 Autonomous driving startup Aurora is partnering with cloud computing giant Amazon Web Services (AWS) to help power the training and simulation workloads underlying its self-driving vehicle technology, the companies announced Dec. 1.
Aurora, founded in 2017, acquired Uber's autonomous vehicle technology at the end of 2020, and has made numerous partnerships in the past year to advance itself within the autonomous driving industry, such as partnering with Toyota to develop robo-taxis and Volvo and Paccar to research self-driving trucks. In November, it debuted as a public company.
Aurora has been running training simulations on AWS since 2019. Over Aurora's history, the company noted it has virtually driven the equivalent of more than 6 billion miles.
"Aurora's advanced machine learning and simulation at scale are foundational to developing our technology safely and quickly, and AWS delivers the high performance we need to maintain our progress," Chris Urmson, CEO of Aurora, said in a statement. "With its virtually unlimited scale, AWS supports millions of virtual tests to validate the capabilities of the Aurora Driver so that it can safely navigate the countless edge cases of real-world driving."

Now Aurora plans to triple the volume of training simulations it runs on its AWS-powered Virtual Testing Suite to more than 12 million per day by the end of 2021, building on the petabytes of data it collects during real-world road tests.
"AWS's highly scalable compute, machine learning, and analytics services are helping Aurora move self-driving vehicle technology forward, toward broad real-world use," Swami Sivasubramanian, AWS's vice president of machine learning, said in a statement. 
AWS is helping power autonomous vehicle research at other companies as well. For example, Daimler's automated trucking subsidiary, Torc Robotics, uses AWS to help it analyze the petabytes of data its vehicles are currently generating on public roads as they collect long-range, high-resolution data from LiDAR, radar and cameras. 
"We are proud to support the acceleration of autonomous vehicle innovation, and look forward to the improved safety and efficiency the transformation of trucking, delivery, and mobility will allow," Sivasubramanian said in a statement.