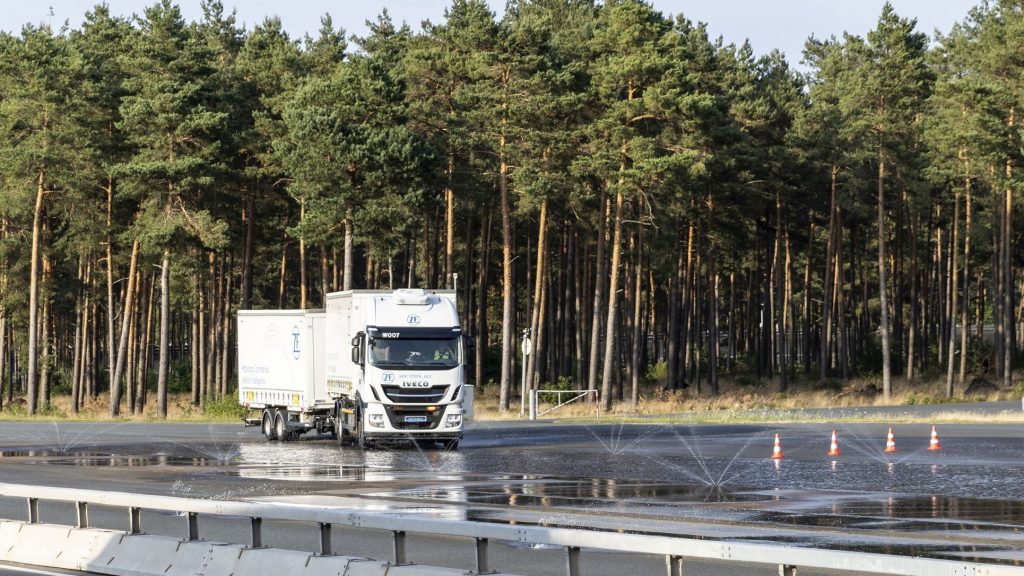 At the commercial-vehicle-focused IAA Transportation 2022 event coming up later this month in Hanover, Germany, ZF's Commercial Vehicle Solutions (CVS) division will present its latest range of automation technologies and expertise. The Friedrichshafen, Germany-based supplier will show its portfolio of automated vehicle chassis systems, components, and controls for SAE Level 4 as well as turnkey autonomous driving solutions complete with virtual drivers.
The company's next-generation ADOPT (Autonomous Driving Open Platform Technology) automated chassis control platform bridges autonomous vehicles' virtual driver software with its actuation systems using standardized interfaces developed to automotive standards. Providing autonomous driving capabilities, ADOPT translates driving instructions into safe vehicle motion-control commands. This includes automated hub-to-hub transportation on highways with ADOPT 3.0 and, for fully integrated yard automation ADOPT 2.0 in combination with the supplier's new SCALAR fleet orchestration solution.
With the new offerings, ZF is aiming to be the commercial vehicle industry's "one-stop-shop" for automated technologies, combining innovations from the vast ZF Group and a partner ecosystem to deliver best-in-class solutions designed to increase logistics productivity and efficiency, according to Carlos González, Head of System Solutions, Truck & Bus, with Commercial Vehicle Solutions.
"From delivering integrated vehicle chassis automation systems to vehicle manufacturers, all the way to full turnkey yard automation solutions for transport-as-a-service providers, ZF can powerfully deliver the end-to-end automated solutions of tomorrow—not at some distant point in the future, but right here and now," he said.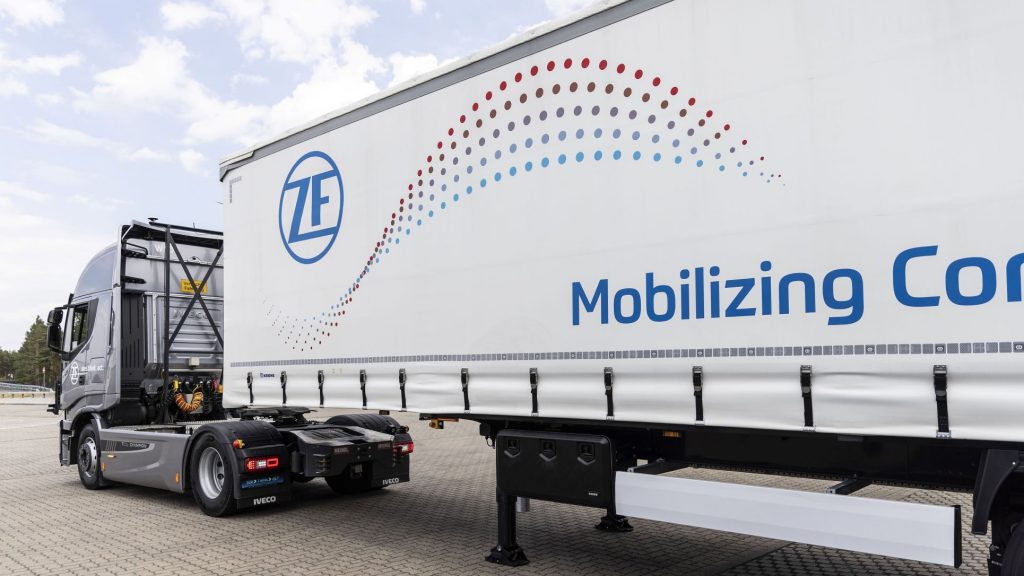 ZF's extensive commercial vehicle automation portfolio ranges from the supply of Level 4 autonomous driving vehicle chassis components and controls, sensors, and high-performance computers to advanced digital and connectivity technologies. This enables design solutions to be integrated within a commercial vehicle manufacturer's automated vehicle platform or combined with the automation solutions and services offered by new automotive companies.
The supplier has showcased high-speed Level 4 autonomous driving with a demonstration vehicle equipped with ZF's gearbox, an OptiRide electronically controlled air suspension system, and its third-generation EBS system interfacing with the ADOPT 3.0 chassis control software for speeds up to 80 km/h. The combination has demonstrated high stability control even on wet roads and surfaces with uneven friction.
In another example, ZF demonstrated a full turnkey yard automation solution using a driverless tractor unit to move semitrailers. Equipped with ZF's ReAX steering, OptiRide ECAS, third-generation EBS, fail operation braking system, and fail-safe park brake, it performed fully automated yard maneuvers such as docking and coupling. Up to 50% quicker, auto-coupling helps improve productivity as well as support for less experienced drivers. The vehicle was controlled by a combination of ZF's new ADOPT 2.0 software for speeds up to 20 km/h interfacing with path planning and perception software from startup Embotech, a spin-off from the ETH Zurich.
This demonstration also showed how ZF can leverage its SCALAR orchestration technology to automate the planning, routing, and dispatching of vehicles in a yard environment. The new digital fleet orchestration platform offers a diverse suite of features designed to optimize commercial fleet operations. It helps operators, including shippers, carriers, cities, and other stakeholders, on their next levels of mobility- and transportation-as-a-service (MaaS and TaaS).
A key building block of SCALAR is its industry-leading fleet orchestration technology which was acquired from Bestmile in November 2021.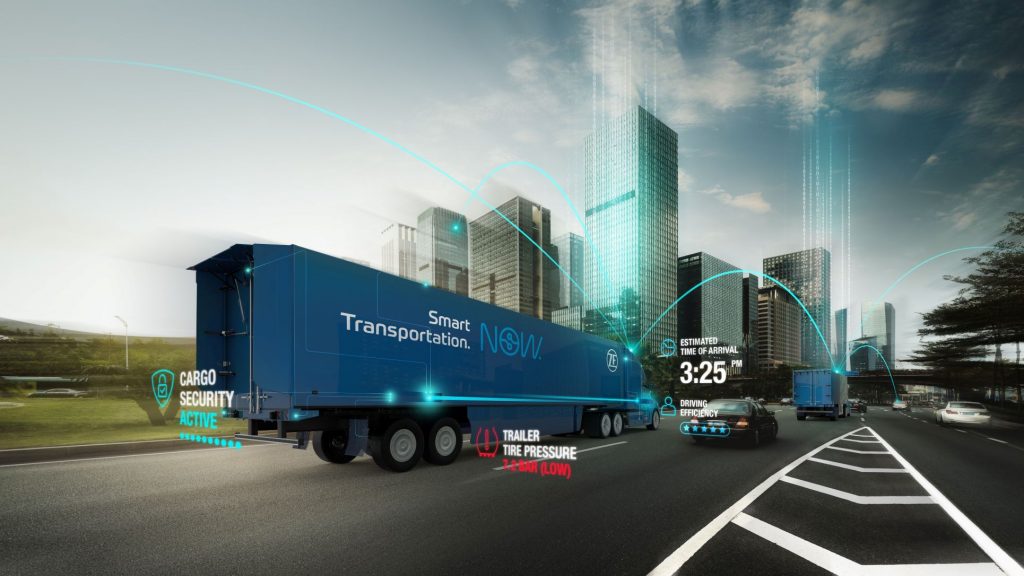 "Leveraging the powerful capabilities of our SCALAR digital Fleet Orchestration Platform will enable ZF to virtually redefine Fleet Management," said Hjalmar Van Raemdonck, Head of Digital System Solutions with ZF's Commercial Vehicle Solutions division. "Helping commercial fleets achieve new levels of efficiency, SCALAR establishes intelligent end-to-end systems which 'orchestrate' the whole process of freight logistics as well as passenger transport. Orchestration undoubtedly has the potential to be the next big thing in fleet management, capable of bringing the technologies of the future, such as autonomous driving, together today."
The new autonomous vehicle orchestration capabilities build on ZF's advanced fleet management solutions through its Transics-branded telematics portfolio and fleet digitalization experience. The integration of Bestmile's orchestration solution represents both a technology enabler as well as a significant commercial milestone for SCALAR in preparing the ground and delivering orchestration services.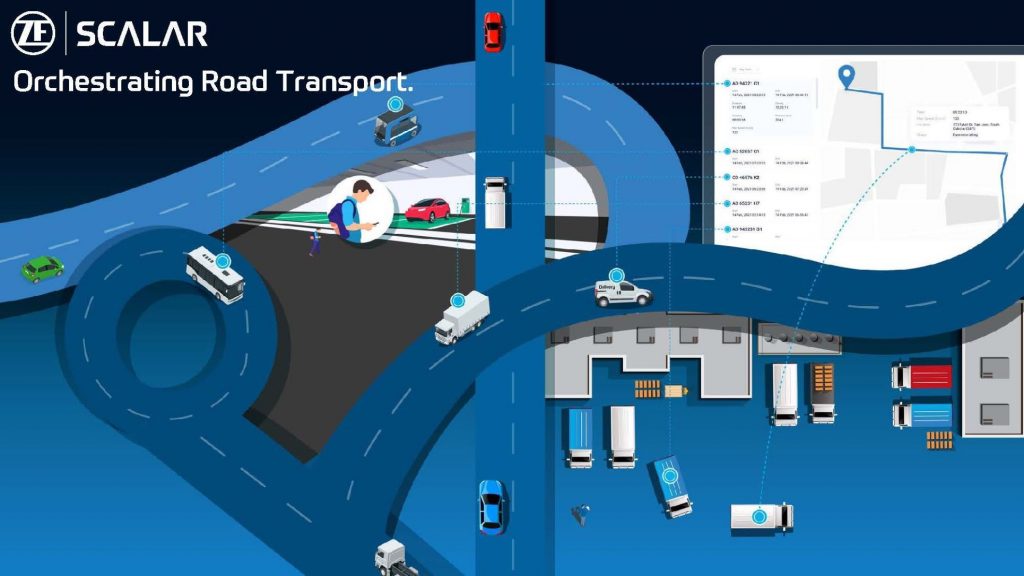 With over 25% of freight journeys estimated to be empty runs, orchestration has the potential to help improve fleet efficiency by sending the right driver to the right vehicle at the right time. This includes helping select the most fuel-efficient and less environmentally impactful route, supporting fleet sustainability, and reducing the total cost of ownership. SCALAR also provides a range of technology benefits to support operational efficiency, sustainability, and vehicle uptimes.
During its recent Global Technology Days, ZF showcased two key proofs of concept to demonstrate SCALAR's future capabilities. This includes supporting driver safety through advanced processing of data from a vehicle's ADAS systems. Additionally, by processing data from cargo monitoring sensors, such as CargoCam, SCALAR has the future potential to provide better protection and management of trailer payloads.