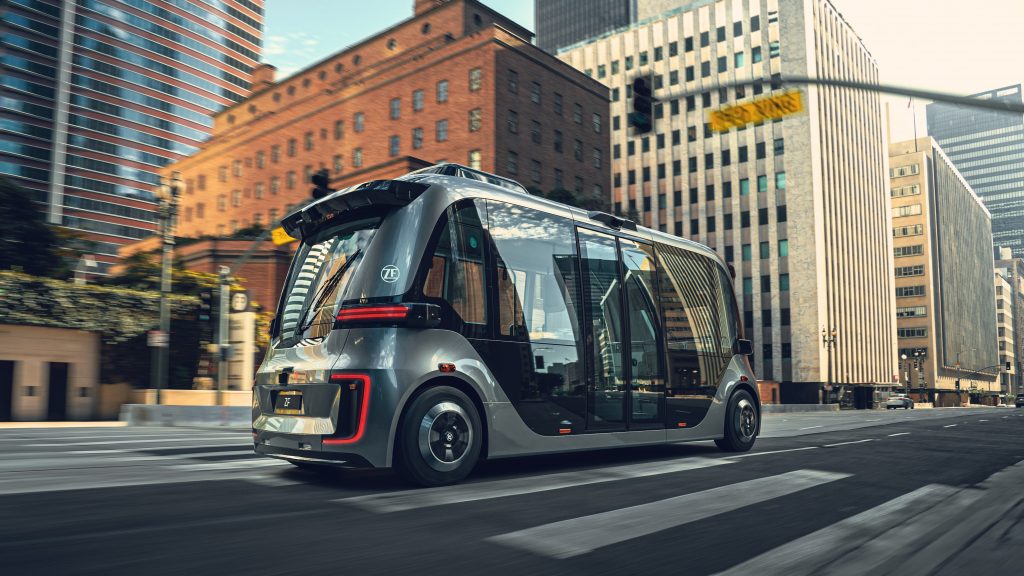 The ZF Group at CES 2023 announced major progress in its work to scale up game-changing technologies that fulfill the company's promise of Next Generation Mobility NOW. Key developments across the board aim to accelerate the global ramp-up of electric mobility, automated transportation, and software-defined vehicles.
New developments revealed included the world premiere of next-generation Level 4 shuttle that delivers a highly modular solution for mixed operating environments. A partnership with Beep, Inc. on autonomous transport ecosystems features a new shuttle generation for the U.S. market. ZF revealed a new higher-performance ProAI computer with multi-domain capabilities.
Earlier, we covered the CES world premiere of the ZF ProConnect platform that securely connects vehicles with cloud and infrastructure with integration of leading-edge positioning solutions from Hexagon, which is demonstrating the high-precision satellite navigation for automated driving in a demo car at CES 2023.
"ZF delivers innovative technologies that contribute to sustainable mobility and helps decarbonize the world," said Dr. Holger Klein, CEO of ZF Group. "Today, we have everything to support our customers with holistic vehicle systems based on advanced high-performance controllers, intelligent sensors, smart actuators, connectivity and cloud solutions, and cutting-edge software and functions. And as a full-range provider of autonomous transport systems, we can go one step further by offering the entire ecosystem needed to implement a clean, safe, and market-driven public transport solution."

Shuttle developments
ZF's next-generation shuttle unveiled at CES 2023 will be capable of SAE Level 4 autonomous driving that can be used where local legislative frameworks permits its operation without a safety driver. With this, ZF is enabling the operation of autonomous transport systems in densely populated areas with no need for segregated or dedicated shuttle lanes and making an important contribution to decarbonization.
Featuring the ZF's ProAI supercomputer, at the core of the shuttle's autonomous driving system is the Virtual Driver software stack consisting of two major parts—the safety and performance paths. Together, they enable the safe and reliable operation of Level 4 shuttles or other transportation carriers.
The safety path monitors situations with a primary focus on safety, defining virtual guardrails for the performance path, and intervening if necessary to help mitigate critical situations. For the performance path, which enables smooth driving in complex scenarios, ZF partnered with autonomous vehicle software startup Oxbotica.
The shuttle for mixed traffic features a modular interior design, enabling it to be tailored to specific customer needs. It joins the growing ZF portfolio alongside the current shuttle model that is already part of the ZF ATS (autonomous transport system) ecosystem for segregated or dedicated lanes. The latest version of this shuttle was recently launched into operation at Rivium business park in Rotterdam, Netherlands.
Also on the autonomous transport ecosystem front, ZF has signed an agreement with U.S. mobility services provider Beep to develop and deploy Level 4 ATS for customer projects in the U.S. The agreement includes planning volumes of several thousand Level 4 shuttle vehicles for deployment in the U.S.
 "We share a common vision for mobility with ZF, and we are pleased to partner with the company to offer their next shuttle generation in the U.S. market as part of our turnkey mobility network solutions," CEO of Beep, Joe Moye, said at the ZF CES 2033 press conference. "This vehicle will help expand use cases and meet growing customer demand as we continue to pursue our vision of extending mobility equity and reducing carbon emissions with safe, efficient shared autonomous transportation."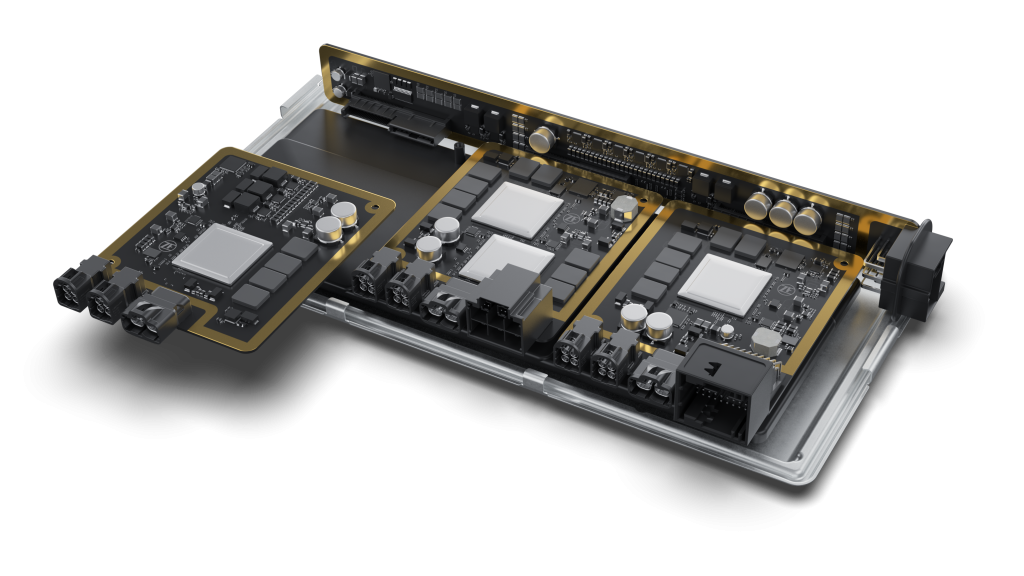 ZF ProAI multi-domain version
The new multi-domain-capable edition of the ZF ProAI high-performance computer means that one device can support domain-based ADAS, infotainment, or chassis functions on separate boards. This includes SoC (system-on-chip) configurations from multiple suppliers and the capability to host multiple operating systems in parallel—such as Blackberry QNX for ADAS (advanced driving assistance system) functions and Android Auto for infotainment. Another major advantage is that software stacks already developed and implemented on specific microprocessors can be carried over into a multi-domain structure.
To accommodate this, ZF has boosted the overall computing power to achieve up to 1500 TOPS (trillion operations per second), a 50% increase from the previous high-end version.
The new multi-domain edition ZF ProAI also offers "extremely good" energy efficiency of 5 TOPS/W while retaining a compact package measuring 12 x 6 x 2 in. The edition addresses the company's expectation that 30-40% of new vehicle platforms will be domain-based as early as 2025.
The ZF ProAI portfolio is fully industrialized and market-ready, with more than 13 million units already ordered and further growth expected. Volume supply is scheduled to start in 2024.