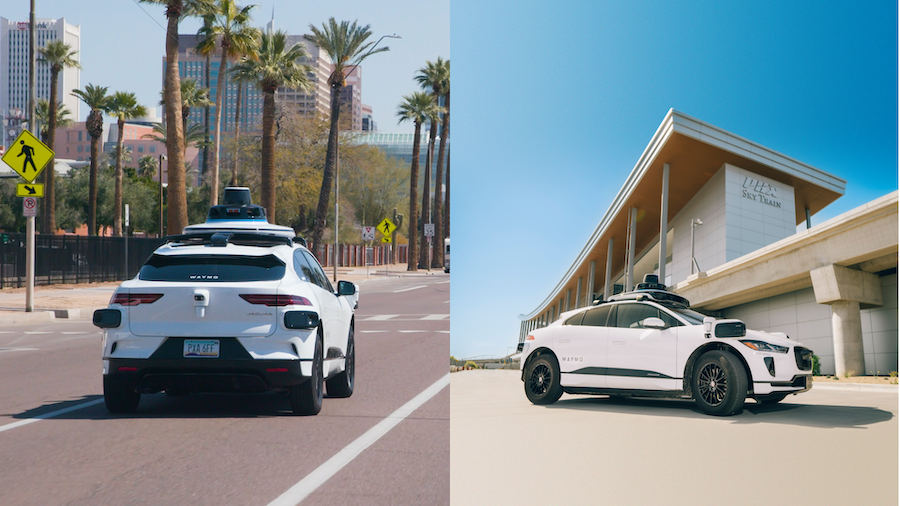 Google's sibling company Waymo has started operating self-driving cars at Phoenix Sky Harbor International Airport, one of the 10 busiest airports in the world, the company announced May 18.
The new project will see autonomous Jaguar I-PACE crossover SUVs powered by Waymo's autonomous driving system, the Waymo Driver, operate at the airport at all hours of the day and night to learn about its busy roads and crowded parking lots.
"At Sky Harbor, the Waymo Driver will apply learnings it has gained from driving in other locations to the unique challenge of airport pick up and drop off," the company said in a blog post. "That includes lessons our Driver learned from navigating the bustling streets of San Francisco, as well as Phoenix's East Valley's crowded shopping centers and high speed roads."
The airport drives will start with autonomous specialists on board, Waymo noted.

"We'll focus our operations on the area around the 44th Street PHX Sky Train Station, which is near the pickup and drop-off location for other ride-hail services," the company said in a blog post. "We will begin with Waymo employees hailing rides between downtown Phoenix and Sky Harbor, eventually opening up to members of the public via our Trusted Tester program."
The new project represents Waymo's increasing focus in Phoenix, given its status as the fastest growing city in the United States. "Phoenix represents a diverse population with unique transport needs," the company said in a blog post. "With the rapidly increasing number of residents, heavy traffic, and the sheer amount of construction taking place, vibrant downtown Phoenix presents many similar challenges to what we've seen in other cities like San Francisco. Being able to apply learnings directly from one city to another unlocks a powerful flywheel effect and gives us a significant head start in every new location, without overfitting our technology to a single territory."
Currently, Waymo is providing fully autonomous rides in two locations—Phoenix's East Valley and San Francisco. It is now preparing to begin rider-only trip, with no human driver behind the wheel, with its employees in downtown Phoenix.
"Our years of experience providing a 24/7, fully autonomous ride-hailing service in Phoenix's East Valley enabled us to remove a human from behind the wheel in San Francisco safely just about a year after we started to ramp up our operations on the fifth-generation Waymo Driver in SF," the company said in a blog post. "Just as our learnings from the East Valley transferred to San Francisco, the capabilities we gained from navigating dense urban environments are transferring smoothly to other places such as Downtown Phoenix and Sky Harbor Airport."