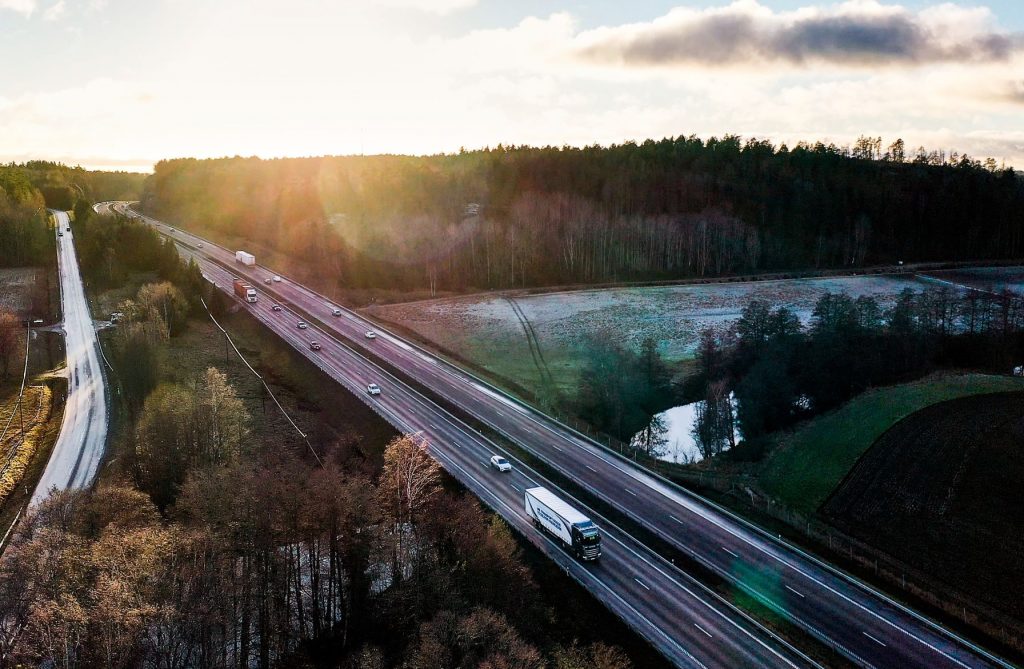 With the permission of the Swedish transport authority, truck maker Scania is now testing autonomous hub-to-hub transport in busy, open-road conditions.
"Since 2021, Scania, together with our partner TuSimple, has been carrying out fully autonomous tests on a 300-km section of motorway between Södertälje and Jönköping," James Cooper, Scania's Business Development Director Hub-to-Hub, told Inside Autonomous Vehicles. "This is a huge step forward for us as the first company to carry out such trials in Europe."
The route takes Scania's autonomous trucks along one of Sweden's busiest roadways, in a significant stretch between Stockholm and Copenhagen, at one point skirting picturesque Lake Vattern. Since the start of the trials, the test license has been expanded to include local roads at each end of the route.
"This means we can drive from logistics hub to logistics hub fully autonomously," Cooper said, "without any intervention by a driver."

The right path
The potential benefits of autonomous operations in the road-freight industry are widely recognized. Driverless trucks will travel all distances, in and around cities or on long hauls, at speeds optimized for fuel consumption, and they will operate day and night, favoring hours when there is less traffic. All of this will mean improved cost/profit margins for the hard-pressed logistics industry.
"The primary challenge will always be the validation and verification of the technology," Cooper said. "Both hardware and software, ensuring that it is fulfilling the safety requirements. We are working with a long backlog of new features required to expand the operational scope of the system, both in terms of the roads on which it can operate and the environmental conditions. Each of these need to be mapped, coded, and tested in the real world."
The trucks being assessed in the current trials use RTK-GPS for location, but much of their behavior is controlled based on inputs from sensors mounted around the vehicle.
"Lidar and radar technologies give a very reliable perception of objects near the truck and are essential to the safety case and ability to react," Cooper said. "Then we have imagery from cameras that we combine with the lidar and radar data for an additional perception layer with long-range vision, which also allows for the classification of objects. Once objects are classified, the computer can make smarter decisions on how to react."
From the outside, the test vehicles look very similar to normal Scania trucks. But, Cooper said, "they are equipped with full redundancy in all major safety systems, so in the event of any single system failure, the vehicles can safely maneuver to a controlled stop in a safe zone." All safety-critical actions are controlled in a closed loop, so they are not dependent on a consistent 4G signal and no external command can override the onboard safety system.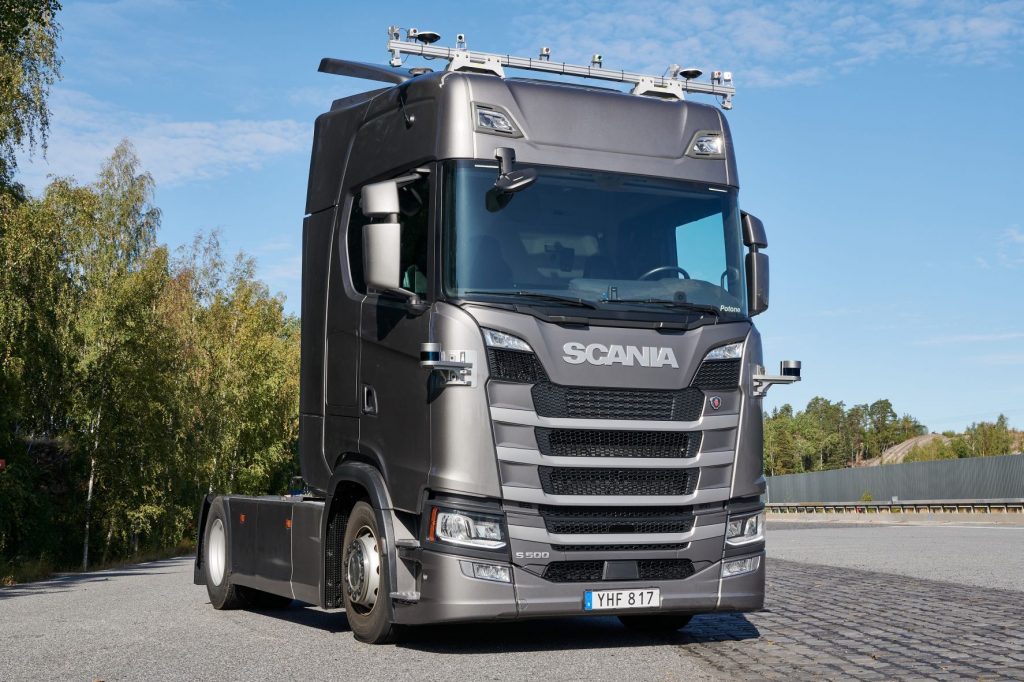 A team effort
In 2021, Scania announced its partnership with TuSimple for the development of an autonomous driving technology stack for hub-to-hub operations.
"Beyond that," said Cooper, "we are constantly evaluating additional partners for other operational areas, as well as for integrations with our off-board control system. We also rely on great collaboration from our traditional Tier 1 suppliers in developing new systems required in the base vehicle."
Cooper said that while the autonomous algorithms and features are crucial, "even greater effort is going into creating an effective toolchain, capable of evaluating the huge amount of data being created by ongoing operations and releasing continuous updates to the autonomous system. And then, beyond that, we have a lot of new base vehicle systems that need to be integrated into Scania's modular structure before we can start producing autonomous vehicles on a large scale."
Street legal
Earlier this year, the European Union (EU) passed its much-anticipated new General Safety Regulation, setting a legal framework for autonomous vehicles in the EU. It includes a set of technical rules to ensure such vehicles are safe and ready to be placed on the market.
The regulation conforms with UN-level rules on SAE Level 3 automation.
"We are making sure that our rules enable us to safely introduce autonomous and driverless vehicles in the EU," said Margrethe Vestager, Executive Vice-President for A Europe fit for the Digital Age and Commissioner for Competition, on the occasion of the adoption of what the EU calls the first international regulation of its kind.
The assignment now falls upon individual EU member states to ratify and implement the regulation, which could be cumbersome, although some countries look poised to fast-track the process.
Speaking to Inside Autonomous Vehicles at the recent AutoSens conference in Brussels, Xenomatix's Sales and Business Development Manager Karsten Bronowski said he believes his home country of Germany will react quickly.
"Yes, there will be a rapid alignment between the EU and national regulations," he said. "At least in some countries. We have been waiting for this and I think we are ready to go forward in the very near term.
"We've had really constructive dialogs with traffic authorities regarding regulations and the positive thing is that everyone is looking for a pragmatic and sensible solution," Cooper added. "No doubt the final versions will pose some challenges, but it shouldn't exceed the level of safety standards that we already hold ourselves to at Scania."
Meanwhile, the driving public could also have a word to say.
"Trucking is a very traditional industry, so public perception will certainly play a role," Cooper said. "However, at this early stage, we are not short of partners who see the challenges emerging across the industry and recognize the potential value of autonomous trucking technology.
"I think one of the underestimated challenges is replacing all of the non-core tasks that today the driver is responsible for. A lot of thought will need to go into security, deviation management, and roadside assistance."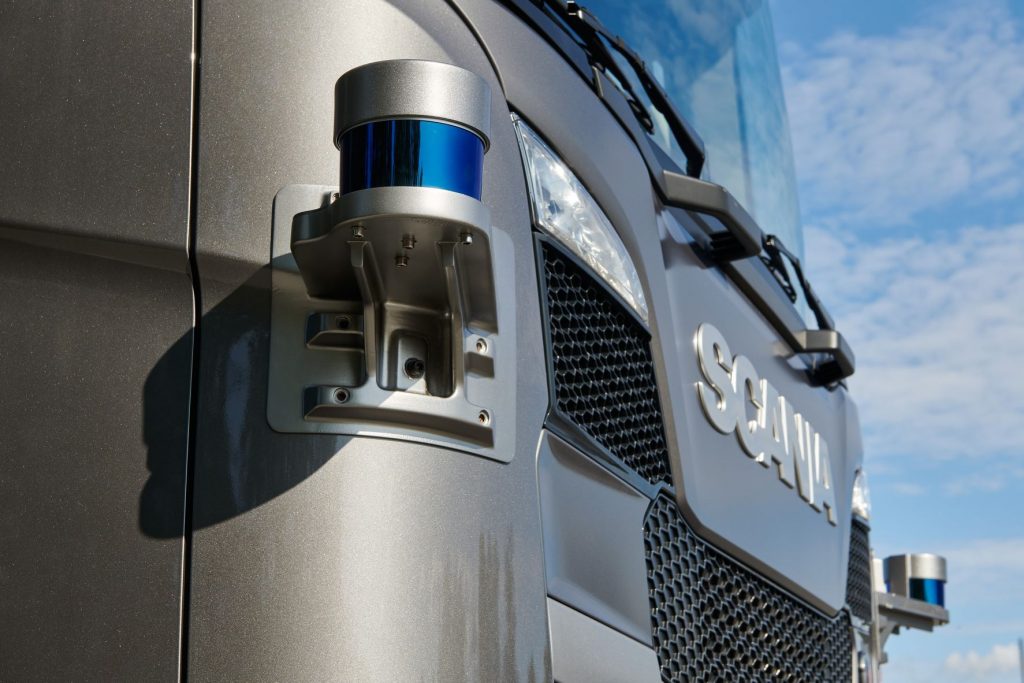 Still to do
Cooper said a key remaining task is the installation of enabled routes and logistics hubs: "We call this the Traton Autonomous Transport Network (ATN), and we are now talking with future partners about how we can expand this throughout our key markets. Once the technology nears maturity and we have the ATN in place, we can start talking with carriers about deploying autonomous vehicles in their fleets."
From a more global perspective, Cooper said, autonomous development is dominated by venture capital. "So, we can expect to see a number of increasingly impressive demos and trials as companies want to show the potential of their technologies. In two to three years, we will likely see the first commercially viable operations, and this will probably happen first in the U.S., with China and the European market close behind."
After that, he said, the rate of expansion will depend on the capabilities developed and how quickly the operational domain can be extended.
"Almost certainly, the first real applications where we will see numbers of driverless vehicles on our roads will be the robo-taxis and trucks because they can run 24/7," Bronowski added, from the AutoSens event in Brussels. "Taxis can run all day and all night, picking up passengers, and of course, the trucks are driving non-stop long distances. It is here where we will see the return on investment, the money being made. A lot of people are still thinking in terms of owning their own personal driverless car, but personal cars sit in driveways for most of the time, so it's hard to see there the benefit of these expensive technologies, at least in the initial phase."
"One thing we do know is that autonomous trucking will be a very competitive transport product, so I'd expect a rapid transition for customers who can deploy it in their logistics chains," Cooper concluded.