NoTraffic announced today the completion of a $50 million Series B funding round, boosting the company's efforts in developing an end-to-end, plug-and-play, autonomous traffic management platform. Leveraging AI and edge computing to reconfigure signalized city intersections into a fully automated, cloud-connected hub, the platform can classify road users including private vehicles, public transportation, emergency services, and pedestrians—and respond accordingly to traffic conditions in real-time to reduce travel times and CO2 emissions and improve safety.
NoTraffic's core infrastructure market is currently experiencing significant tailwinds thanks in part to the $1.2 trillion U.S. infrastructure bill. Structural factors continue to drive demand for digital transformation in the mobility space the pressing need to reduce traffic fatalities, alleviate road congestion that grows 12% each year, and reduce CO2 road emissions that account for 29% of the U.S. total.
The company believes it is well-placed to support this digital transformation with its effective, practical, and economical solutions. And investors agree, the latest funding round led by M&G Investments with participation from VNV Global and UMC Capital as well as investors Grove Ventures, Vektor Partners, Next Gear Ventures, North First Ventures, Meitav Investment House, Alchimia Investments, and TMG. The new round will allow the company to accelerate its growth and increase production, R&D, and sales in new markets including Japan, Italy, Germany, and the UK.
"NoTraffic is solving longstanding urban problems while simultaneously taking critical steps to prepare roads for an era of connected and autonomous vehicles," said Carl Vine, Portfolio Manager at M&G Investments, which sourced some of the NoTraffic funding from its Catalyst strategy that invests in companies with innovative solutions for some of the world's biggest environmental and social challenges.
"We believe the company can scale its cutting-edge technology solution to capture a significant share of this exciting and important sector," added Praveg Patil, Deputy Head of Investments, EMEA, at M&G Catalyst. "In doing so, NoTraffic will make our urban environments cleaner, safer, and more efficient."
NoTraffic thinks the traffic industry is ripe for innovation and modernization. Technology progress has been slow since the first electric traffic light was installed in Cleveland, OH, in 1914, with most traffic signals still operating on pre-set timing plans. The company's solution can be retrofitted onto existing infrastructure, with the first-of-its-kind AI-powered, software-defined platform empowering transportation departments and other stakeholders to manage traffic in real-time.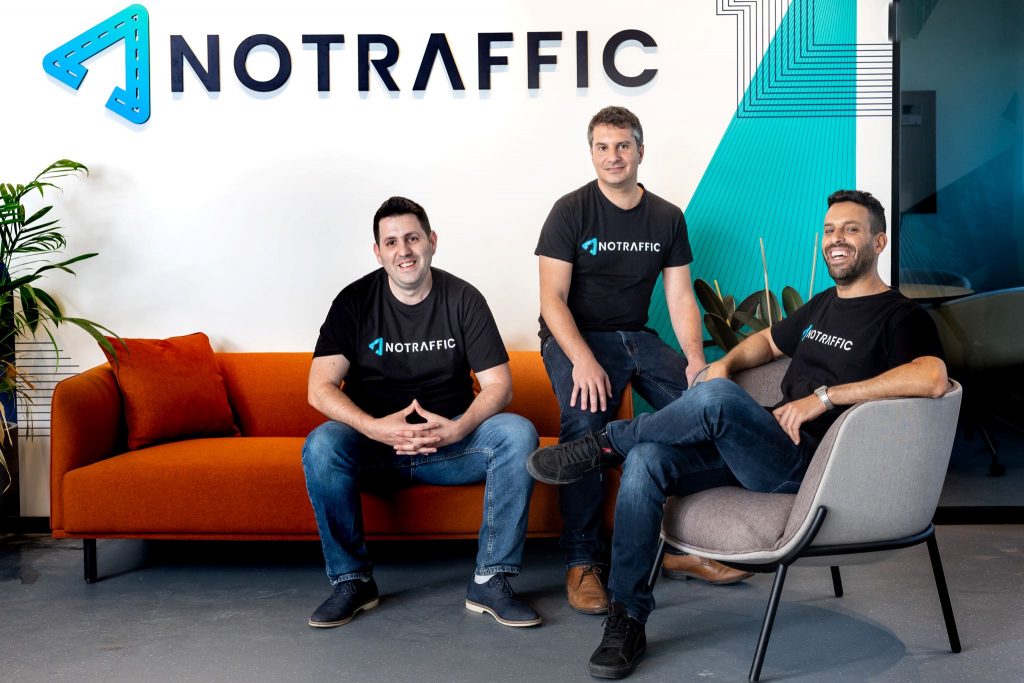 "Much like mobile phones disrupted the fixed line of their business, it was Apple's AppStore that opened the door to a vast range of new applications, business models, and revenue pools," said Tal Kreisler, Co-Founder and CEO of NoTraffic. "NoTraffic's SaaS platform is designed to similarly create unique insights and functionalities that can flexibly be provided to stakeholders without changes to the infrastructure."
NoTraffic, co-founded by Kreisler, CTO Uriel Katz, and CSO Or Sela, says it offers the first mobility marketplace with access to multiple services for enhanced safety, data analysis, efficiency, and detection. It aims to be a one-stop shop for mobility needs, cutting down interdependencies on expensive legacy vertical solutions with limited interoperability.
The company uses edge-computing technology, pioneering software-defined infrastructure that facilitates real-time decision-making at both local and cloud levels. By leveraging a network of smart sensors deployed at signalized intersections, conflict points, or complex roadways, the platform gives traffic authorities and infrastructure operators the ability to fully control and prioritize traffic flow for various transportation modes including cars, bicycles, buses, as well as pedestrians.
NoTraffic can quickly transform any signalized intersection into a cloud-connected and dynamic network capable of understanding the traffic picture in any given area to respond instantly to road users. The system fuses and shares data generated by NoTraffic's proprietary intelligent edge sensors together with connected and autonomous vehicle V2X (vehicle to everything) data and other data sources to manage traffic flows in real time.
The company is currently deployed at numerous locations in North America including California, Texas, Pennsylvania, Colorado, and Georgia serving millions of drivers per day.