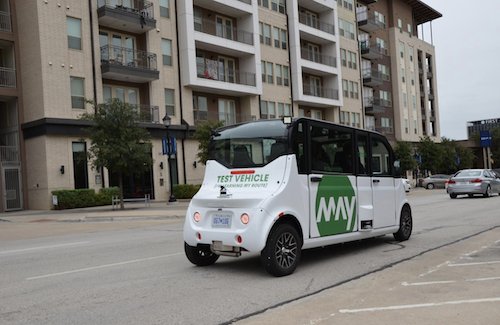 A new public transportation program under development in Texas will offer free rides on autonomous vehicles.
The one-year pilot program, called Arlington RAPID (Rideshare, Automation, and Payment Integration Demonstration), will incorporate fully autonomous electric shuttles into the city of Arlington's existing on-demand rideshare service, Via Rideshare. The autonomous transportation startup May Mobility will provide and operate the autonomous vehicles (AVs) for the project.
Arlington RAPID will include a wheelchair-accessible AV, as well as 20,000 free rides on the AVs for students at the University of Texas at Arlington. The goal of the project is to see how autonomous vehicles and mobility-on-demand technologies can help develop more effective, efficient, safe and accessible transit networks in low-density settings where traditional fixed-route transit is impractical.
"We are currently in the planning stage, and we plan to launch the AV service in March 2021," said Ann Foss, the project manager for the city of Arlington, Texas, which is leading the project. 

Researcher Sharareh Kermanshachi at the University of Texas at Arlington noted that many students and Arlington citizens use Via because they do not have a personal vehicle, which could make this new AV program extremely important to them. The researchers are currently analyzing rideshare and public transit data to find potential gaps in service, hot spots, service hours, zone boundaries, consistency of Via wait times and infrastructure issues such as bus shelters and sidewalks.
In light of the pandemic, Foss noted "we are considering a number of steps to address health safety as part of this deployment, including providing vehicle safety drivers with cleaning materials, daily vehicle interior cleaning, limiting the number of riders, and providing in-app health reminders when riders book."