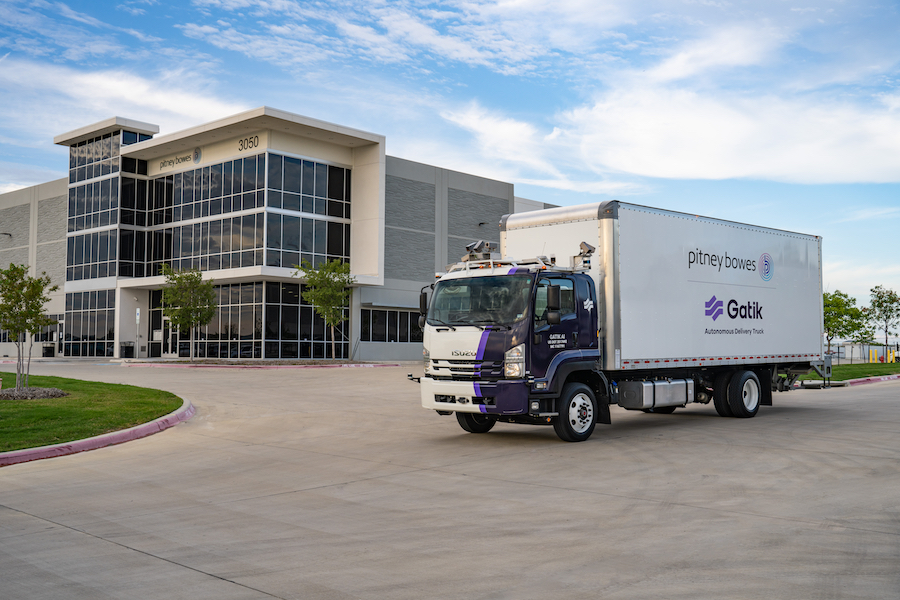 Self-driving vehicle startup Gatik is partnering with global shipping and mailing company Pitney Bowes to use autonomous trucks to deliver e-commerce shipments in Dallas.
Pitney Bowes provides technology, logistics and financial services to more than 90 percent of the Fortune 500. Under the new multi-year commercial agreement, Gatik will integrate its class 6 medium-duty autonomous box trucks into the Pitney Bowes e-commerce logistics network in the Dallas market beginning in first quarter of 2023.
Founded in 2017, Gatik's focus is on autonomous deliveries for "the middle mile." Whereas the first mile in logistics refers to the part where products or produce are taken from a factory or farm to a warehouse, and the last mile refers to the trip to a customer's doorstep, the middle mile covers the part from a distribution center to a retail store. In 2021, Gatik became the first company to operate fully driverless commercial deliveries on a middle mile delivery route anywhere in the world with Walmart, in Walmart's home state of Arkansas.
"Our partnership with Pitney Bowes reinforces the intense demand we are seeing for autonomous trucks that can operate within urban and semi-urban environments," Gautam Narang, CEO and co-founder of Gatik, said in a statement. "We're excited to help Pitney Bowes accelerate the transformation of their supply chain by establishing a safe, secure and hyper-responsive autonomous delivery service in the greater-Dallas area."
Gatik focuses on short-haul, business-to-business logistics for Fortune 500 retailers such as Walmart, Loblaw, KBX and Georgia-Pacific. Its class 3 to 6 medium-duty autonomous box trucks are commercially deployed in multiple markets, including Ontario, Texas, Arkansas and Louisiana.
During the initial phase of this new partnership, a safety operator will occupy the autonomous vehicles to monitor performance. Data collected from each delivery will be used to improve network design and identify additional opportunities for cost savings and service improvements as Pitney Bowes looks to integrate autonomous vehicles across its national e-commerce logistics network.
"Our partnership with Gatik promotes growth and accelerates the modernization and expansion of our network with technology solutions that are redefining e-commerce logistics," Stephanie Cannon, senior vice president and head of global platform and network at Pitney Bowes, said in a statement. "Gatik's flexible and responsive logistics network enables us to tailor our Designed Delivery services to provide shippers with unmatched solutions. Pitney Bowes and Gatik's innovative strategies align to remove cost and complexity from e-commerce logistics to better serve our clients."