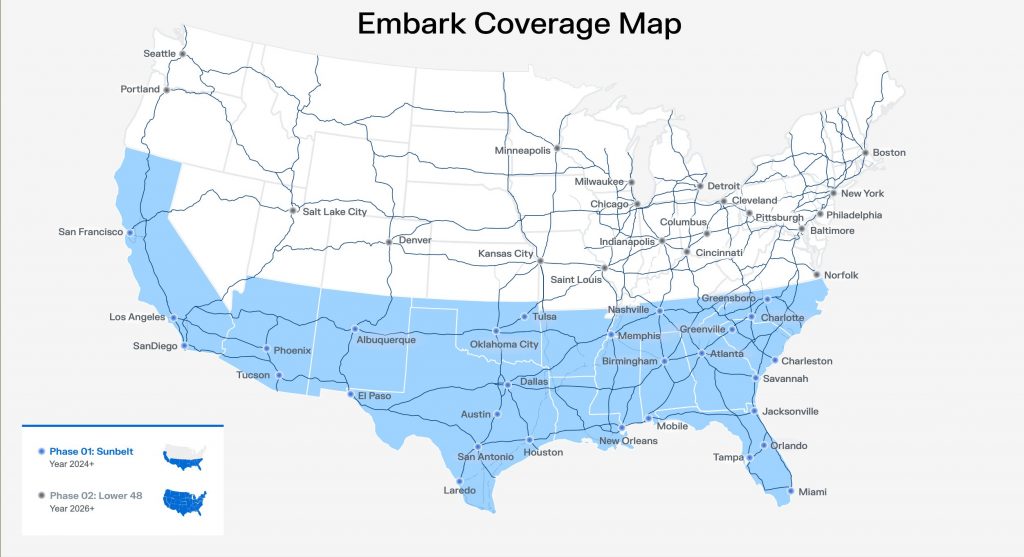 Autonomous vehicle company Embark Trucks is teaming up with industrial real estate firm Alterra to open transfer points to support driverless trucking, the companies announced Feb. 28.
The new partnership aims to identify, purchase and lease sites optimally sized and located for transfer points, where freight is moved from driverless long-haul trucks to driver-enabled trucks for first- and last-mile delivery. The focus of this partnership is the U.S. Sunbelt.
Previously, in September, Embark and Ryder announced they would team up to launch up to 100 transfer points across the United States. This new partnership with Alterra is designed to help Embark expand its coverage.
"Alterra can provide the real estate portfolio, market expertise and capital required to activate a nationwide real estate network of transfer points, enabling Embark to remain asset-light and focused on our software-as-a-service business model," Sam Abidi, chief commercial officer at Embark, said in a statement. "Working with Alterra should give Embark flexible access to a portfolio of AV-ready properties in Sunbelt markets where we plan to expand."

Alterra specializes in industrial outdoor storage properties that can accommodate vehicle and trailer parking. The company currently owns a nationwide real estate portfolio with more than 100 properties located across 27 states. This portfolio will substantially expand through Alterra's fully discretionary private equity fund that is currently investing nationally with capacity up to $1.5 billion. 
"Industrial outdoor storage as an asset class has yet to be institutionalized, making it difficult for tenants with specific and nationwide real estate needs, like Embark, to systematically access a network of suitable sites," Leo Addimando, managing partner of the Alterra Property Group, said in a statement. "As a leader in this asset class on our way to accumulating a multi-billion dollar portfolio, we have the ability to provide Embark a strategic advantage when it comes to identifying, securing, and developing a nationwide network of autonomous-ready sites."
In the short term, Embark and Alterra intend to identify standardized turn-key sites that provide Embark the ability to quickly scale up at a particular site with minimal lead time or development costs. All in all, Alterra plans to deploy new and existing funding to acquire dozens of AV-ready sites in major markets like Los Angeles, Dallas, and Atlanta that could be utilized by Embark and its carrier partners over the next several years.