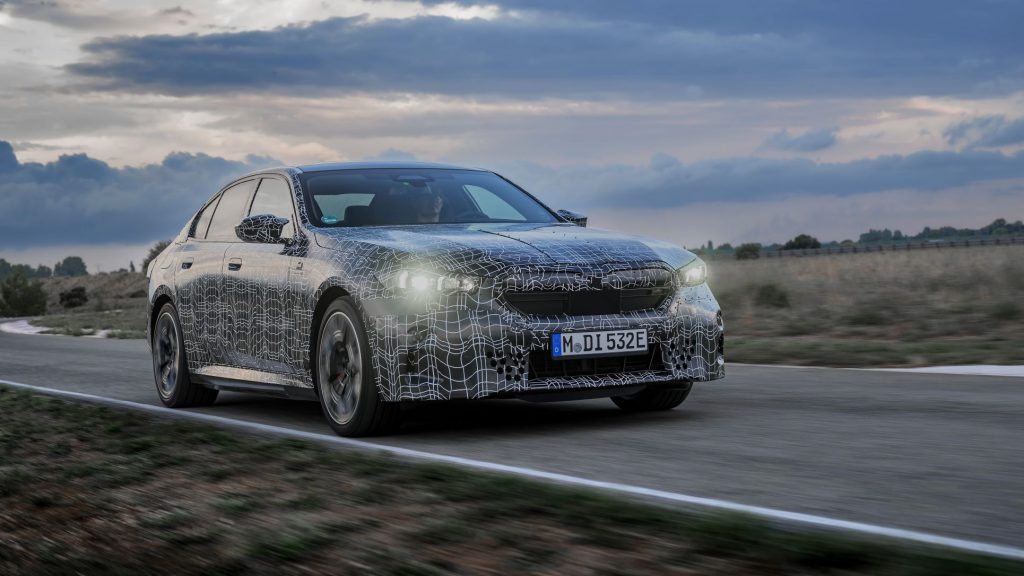 Production development for the first BMW i5 and its 5 Series companion models is entering the final stages with the fine-tuning of its suspension control and advanced driver assistance systems. Just a few weeks ahead of the car's world premiere, the company revealed that the all-electric version of the new 5 Series sedan will deliver the next level of automated driving capability. Its Highway Assistant will control the distance to the vehicle ahead and carry out steering adjustments and lane changes for the first time by means of eye activation.
For more than a year, the i5 testing program, from the snow-covered and icy surfaces of the winter test center at Arjeplog, Sweden, to regions offering extreme heat and dry conditions, in city driving, and on country roads, motorways, and test tracks. The driving experience fine-tuning was carried out at the BMW Group's proving grounds outside Miramas in southern France.
The company says that the new i5 and 5 Series in general will raise the bar in its segment with its extensive array of systems for automated driving and parking. High-resolution cameras, high-precision radar sensors and control units from the BMW Group's latest technology toolkit, and a software application refined over all of those miles of testing provide the ingredients for an automated driving experience featuring innovations that further enhance safety and comfort.
In the U.S., Canada, and Germany, the Driving Assistant Professional available as an option for the new 5 Series sedan will feature a Highway Assistant that can be used at speeds of up to 130 km/h (85 mph). Once activated, the system takes care of distance control and the steering inputs required for lane control so the driver can keep their hands in a comfortable position and focus fully on watching the area around the vehicle and the traffic situation.
An interior camera helps monitor the driver's level of alertness and enables the world-first automated lane change—included as part of the Driving Assistant Professional and Highway Assistant—controlled using eye activation. The convenience feature results in a new level of interaction between driver and car.
Looking in the exterior mirror prompts the car to initiate the lane-change process and carry out the necessary steering movements and speed adjustments at speeds of up to 130 km/h (85 mph) once the driver has confirmed they want it to do so, and the traffic situation allows. The visual gesture complements the previous use of the turn signal lever, which is also available as an alternative.
Production of the eighth-generation 5 Series sedan will begin in the summer of 2023 at BMW Group Plant Dingolfing in Bavaria. The car's market launch will start in October 2023.