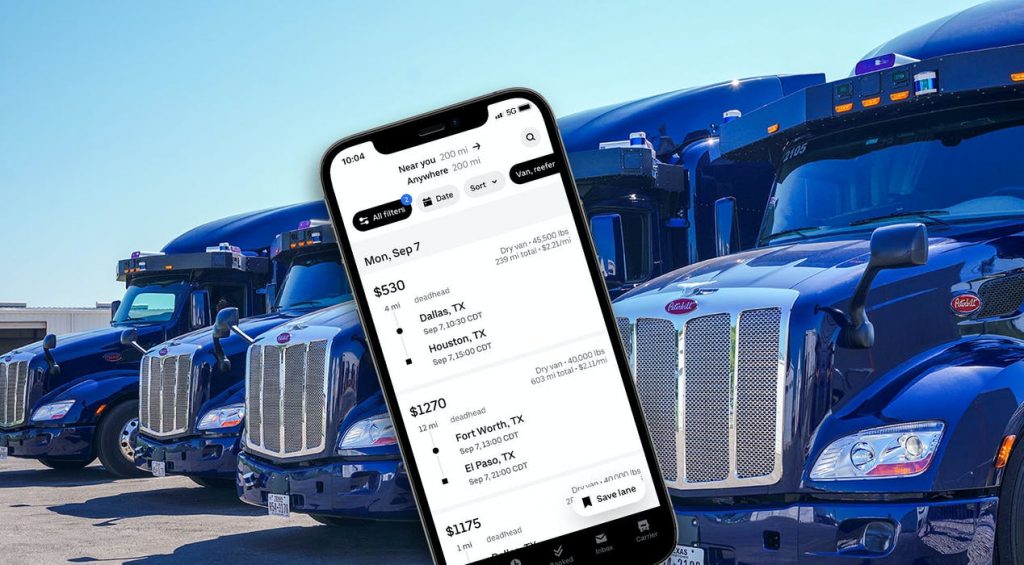 Autonomous driving startup Aurora is partnering with Uber to explore moving freight with self-driving trucks, the companies announced Dec. 15.
The commercial pilot program will investigate combining Aurora's trucking product suite, Aurora Horizon, with Uber Freight, whose app matches carriers with shippers, much in the same way Uber's ride-hailing app connects drivers with those looking for a ride.
The new pilot is focused on Texas. More than a tenth of all long-haul truck drivers in America drive in Texas, and freight moved on Texas highways is expected to nearly double in the next 25 years, Aurora previously noted.
Aurora-powered trucks with human operators onboard began autonomously hauling cargo between terminals in Dallas and Houston earlier this month, transferring freight to Uber Freight carriers to handle the first and final mile. (These were drop-and-hook operations, the trucking industry's term for when a driver drops a full container at one facility and hooks their tractor to a pre-loaded trailer at the same site.)

"By leveraging Uber Freight's technology, we were able to perform a seamless hand-off between Uber Freight's local carriers and our vehicle operators at the terminal, paving the way for a hybrid future with local carriers and Aurora-powered trucks," Aurora noted in a statement. "As we expand our routes and Aurora terminals, we'll increase our coverage and deepen the integration of Aurora Horizon within Uber Freight's network."
Aurora, which was founded in 2017 and debuted as a public company in November, acquired Uber's autonomous vehicle technology at the end of 2020. As part of the deal, Uber acquired a 26% stake in Aurora.
In next few years, Aurora aims to identify how to best integrate its cloud-based infrastructure, Aurora Beacon, with Uber Freight's network for seamless operations with Aurora Horizon. "This way, when we launch our commercial business, carriers using Aurora Horizon may have the option to leverage Uber Freight's platform to haul freight for shippers between terminals, allowing them to utilize their drivers and existing assets at full capacity," Aurora noted in a statement.
Aurora noted that major challenge the freight industry currently faces is underutilization of truck capacity and inefficient load procurement. The company noted that autonomous trucks with built-in access to a digital freight network such as Uber Freight may one day offer carriers of all sizes the opportunity to move goods more quickly and efficiently at all hours of the day and night, stopping only to refuel, the company added.
"The combination of Aurora Horizon and Uber Freight's digital freight network will provide carriers with powerful tools to further maximize fleet utilization, broaden opportunities to haul goods, and streamline supply chain operations," Aurora noted in a statement.