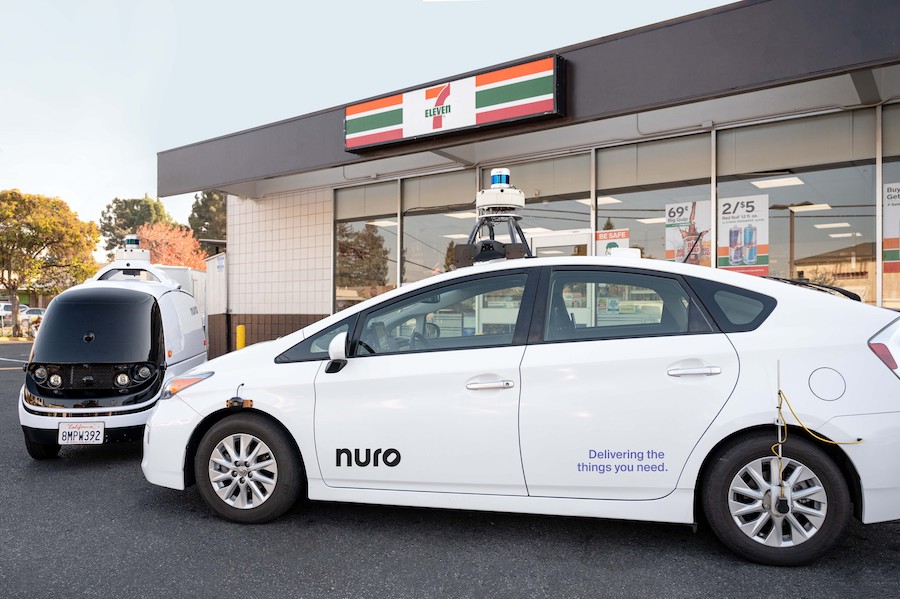 7-Eleven is teaming up with driverless delivery company Nuro to launch the first commercial autonomous delivery service in California, the companies announced Dec. 1.
Last year Nuro became the first company permitted to deploy autonomous vehicles on public streets for commercial operations in California, paving the way for the new partnership.
"7-Eleven has owned and defined convenience since 1927," Raghu Mahadevan, 7-Eleven chief digital officer, said in a statement. "Our first foray into autonomous delivery was in 2016 when 7-Eleven became the first retailer in the U.S. to make a drone delivery to a customer's house. Since then, we haven't stopped looking for ways to redefine convenience for our customers inside and outside the four walls of our stores. Fast forward to 2021, and we are pushing the boundaries of innovation even further to provide customers with the first commercial autonomous delivery service in California. I can't wait to see where we go from here."
In Mountain View, Calif., 7-Eleven customers using the 7NOW delivery app can have their products delivered autonomously from 8 a.m. to 9 p.m. at no additional cost. The app will send updates as the order is processed, and orders will arrive in approximately 30 minutes. Customers then can simply grab their items from the back of the autonomous vehicle. Age-restricted items such as alcohol, tobacco products and lottery tickets are not available in autonomous delivery orders.

Nuro will begin this service with its driverless Priuses which all will include an autonomous vehicle operator in the driver seat to monitor the technology and ensure an optimal delivery experience. The company will later use its custom-designed electric R2 delivery robots without any occupants in the vehicles.
"With the announcement of our first commercial deployment with 7-Eleven, Nuro is embarking on a real path towards the widespread deployment of our service," Jiajun Zhu, Nuro CEO and co-founder, said in a blog post. 
In November, Nuro received $600 million in funding to support the development and deployment of Nuro's autonomous delivery service across the country. Nuro has also signed a five-year partnership with Google Cloud to support the massive scale and capacity required to run self-driving simulation workloads, machine learning to improve model accuracy, and storage to manage important data from the vehicles.
"We look forward to building on our steady momentum as we look to grow into more and more communities in the near future — hopefully one you call home," Zhu said in the blog post.