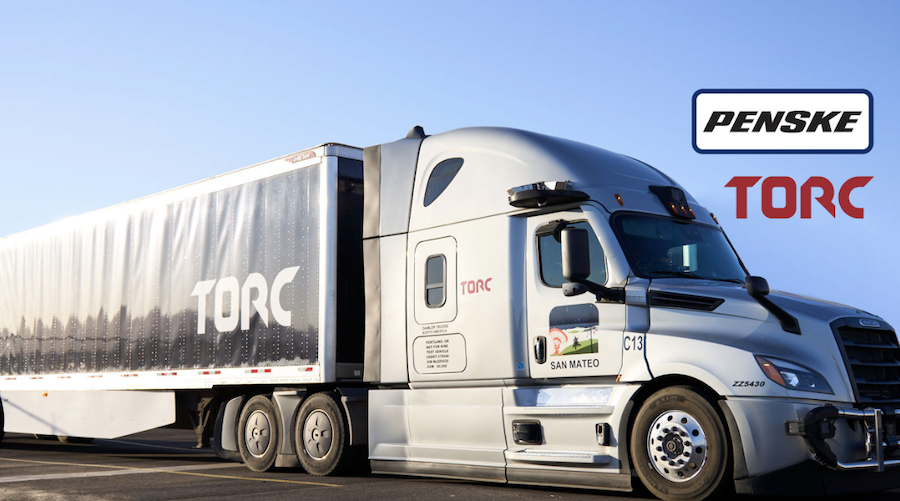 Global trucking firm Penske will help maintain Daimler Truck's autonomous technology subsidiary Torc Robotics' self-driving test fleet, the companies announced May 5.
"Penske Truck Leasing's expertise and impressive track record in the global trucking industry will play a significant role in getting our trucks on the road and strengthening our goal of safe operations," Michael Fleming, Torc founder and CEO, said in a statement. "Our objective is to integrate our trucks into the existing freight industry, and we are confident that a current industry leader, like Penske, will provide crucial support in doing just that."
Founded in 2005 and headquartered in Blacksburg, Virginia, Torc is currently focused on commercializing autonomous trucks for long-haul applications in the United States. Daimler Trucks acquired Torc in 2019.
In March, Torc unveiled the Torc Autonomous Advisory Council to help the company become the first to provide scalable, profitable, commercialized trucks capable of SAE (Society of Automotive Engineers) level 4 autonomy — that is, the ability to act without any human intervention in the vast majority of situations. In addition to Penske, members of this group include major names in the freight industry such as Ryder, C.H. Robinson, Schneider and Covenant Logistics, as well as logistics technology startup Baton.

"We are very pleased to support Torc's fleet uptime with our best-in-class truck maintenance program," Paul Rosa, senior vice president of procurement and fleet planning for Penske Truck Leasing, said in a statement. "This arrangement serves as a great complement to our work on the Torc Autonomous Advisory Council."