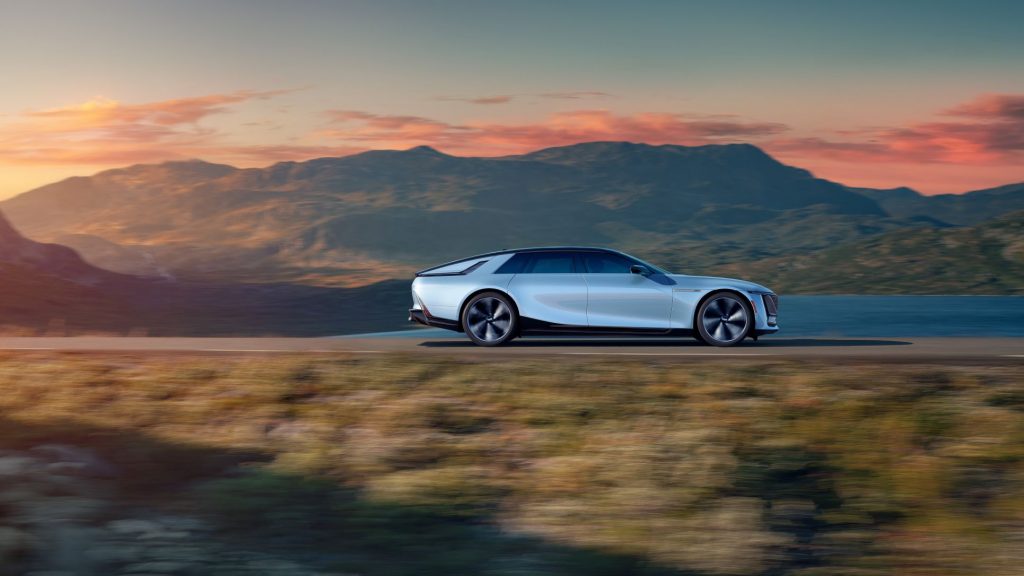 General Motors today revealed some of the sensor strategies behind its next-generation Ultra Cruise advanced driver assistance system is engineering to ultimately enable hands-free driving in 95% of all driving scenarios.
The development of the system, which will have a unique sensor suite when it launches on the Cadillac Celestiq, is directly guided by the company's philosophy of safely deploying advanced driver assistance system (ADAS) technologies. GM's focus on expanding ADAS accessibility means that the new system in combination with the currently available Super Cruise, will bring the technologies to more customers, on more vehicles, in more regions, at more price points.
The destination-to-destination hands-free system will use a combination of cameras, short- and long-range radars, a lidar behind the windshield, an all-new computing system, and a monitoring system to ensure full driver attention. This system works through sensor data fusion to provide Ultra Cruise with a 360-degree, three-dimensional representation of the vehicle's surroundings.
"GM's fundamental strategy for all ADAS features, including Ultra Cruise, is safely deploying these technologies," said Jason Ditman, GM Chief Engineer, for Ultra Cruise. "A deep knowledge of what Ultra Cruise is capable of, along with the detailed picture provided by its sensors, will help us understand when Ultra Cruise can be engaged and when to hand control back to the driver. We believe consistent, clear operation can help build drivers' confidence in Ultra Cruise." 

Vehicles equipped with Ultra Cruise hardware will be enhanced through over-the-air software updates. Over time, GM expects that customers will be able to travel hands-free with the system across nearly every paved public road in the U.S. and Canada including city streets, subdivision streets, and rural roads—in addition to highways.
GM is developing Ultra Cruise software in-house with a team of software engineers around the world with the help of suppliers and the integration of their sensing technologies.
Qualcomm compute
The compute platform that enables Ultra Cruise will be powered by a scalable compute architecture featuring system-on-chips (SoCs) developed by Qualcomm Technologies. GM announced at CES 2022 that the Celestiq will mark the first production application to use Qualcomm's Snapdragon Ride Platform for ADAS.
"Ultra Cruise powered by Snapdragon Ride on Cadillac vehicles will be an experiential and technological leap forward for the industry," said Nakul Duggal, Qualcomm Technologies, Inc. Senior Vice President and GM, Automotive.
The Ultra Cruise compute module, about the size of two laptops stacked together, in combination with GM's homegrown Ultra Cruise software stack, will help the system achieve what GM believes will be an unmatched combination of capability, reliability, predictability, and robust door-to-door hands-free driving.
The compute module is comprised of two Snapdragon SA8540P SoCs and one SA9000P AI accelerator to deliver low-latency control functions on 16-core CPUs and high-performance AI compute of more than 300 TOPS (tera operations per second). The SoCs are designed with the bandwidth for Ultra Cruise's sensing, perception, planning, localization, mapping, and driver monitoring, and are designed to meet automotive system safety standards with multiple redundancies. In addition, the compute platform includes an Infineon Aurix TC397 processor for the highest ASIL-D system automotive safety integrity level.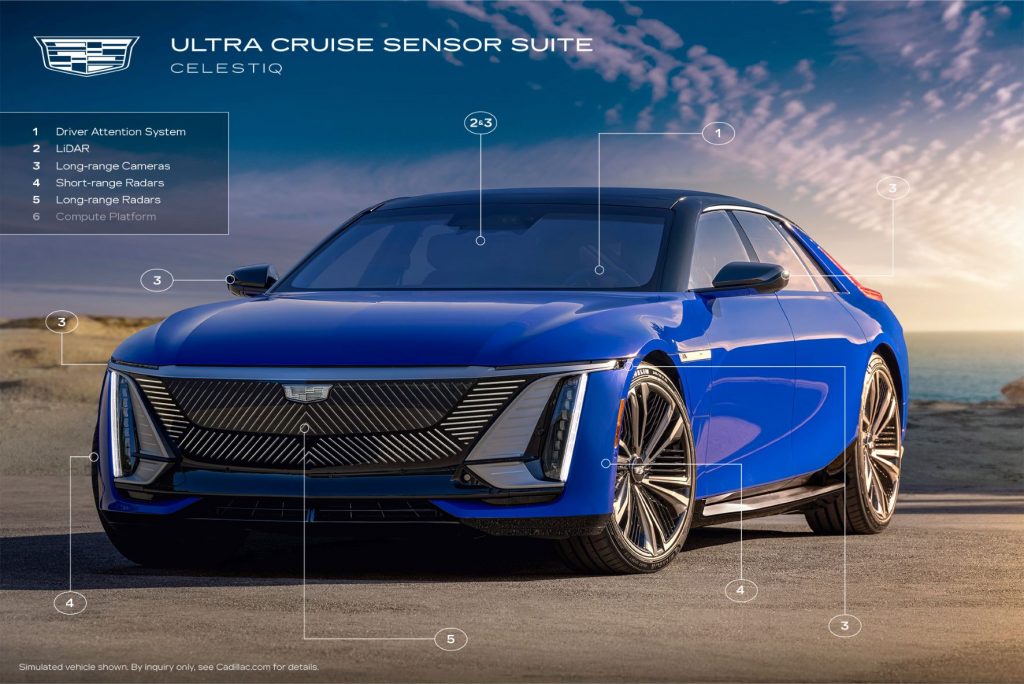 Sensor fusion
The sensor suite features seven, 8-MP cameras located on the front, corners, back, and sides of the vehicle will help enable the system to detect objects such as traffic signs, traffic lights, other vehicles, and pedestrians.
Short-range radars on the four vehicle corners are used to help sense like objects like pedestrians crossing the street or vehicles in surrounding lanes at up to 90 m. Three 4D long-range radars on the front and back of the vehicle help to detect an object's location, direction, and elevation.
A Cepton lidar behind the windshield helps produce a three-dimensional view of the scene, enabling more precise detection of objects and road features such as vehicles and lane markings "even in inclement weather conditions." Combined with the other sensors, it is said to help create a robust perception of the environment around the vehicle for Ultra Cruise, increasing the system's functional domain and performance.
The driver attention system uses a small camera on the top of the steering column, using infrared light to help monitor the driver's head position and eyes in relation to the road to help ensure driver attention.
FocalPoint GPS software
At CES 2023, FocalPoint a collaboration with GM that will focus on the possible application of the UK GPS software company's Supercorrelation technology in future vehicles, including potential enhancements and expansion of its Super Cruise advanced hands-free driving assistance technology and its upcoming Ultra Cruise advanced driver assistance system in the coming years. 
"FocalPoint's Supercorrelation technology can make navigation and positioning more precise, especially in dense urban environments, which we believe can have significant benefits for the ongoing growth and capability of ADAS and AV systems," said Scott Pomerantz, FocalPoint CEO. "We're delighted to expand our advanced technology into the automotive sector with GM, a leader in advanced driver assistance systems."
The collaboration announcement came along with a strategic investment from GM Ventures, the venture capital arm of General Motors to explore the application of next-generation GPS technologies to the automotive market.
"We're constantly researching technologies to support and enhance the growth and performance of our vehicles, both within our internal research and development operations and through collaborations with innovators beyond our company," said Kent Helfrich, President, of GM Ventures. "This collaboration with FocalPoint targets a specific aspect of the ongoing expansion of Super Cruise and Ultra Cruise going forward."
The Supercorrelation technology enables a new class of satellite positioning receivers that can measure the directions of the incoming signals, allowing them to ignore reflected signals and fake "spoofed" signals, making them more accurate in cities and more resilient against spoofing attacks. Spoofing is used to broadcast fake satellite signals and confuse the receiver.
"This is a major milestone for FocalPoint as we work with General Motors to explore the deployment of our technologies in EVs and AVs," commented Ramsey Faragher, FocalPoint Founder, President and CTO. "Accurate positioning for autonomous cars and driver assistance platforms is an opportunity for the industry and we are proud to be providing a much-needed solution."
FocalPoint's unique technology can instantly detect fake signals as spoofers, ignore those signals, and pinpoint where in the physical environment the signal is coming from. It is said to be the only consumer-grade product in the market capable of these unique performance characteristics.