A consortium calling itself HumanDrive completed a 230-mile autonomous journey across the UK.
The Grand Drive route included unique road environments such as complex roundabouts and high-speed country lanes with no road markings, white lines or kerbs.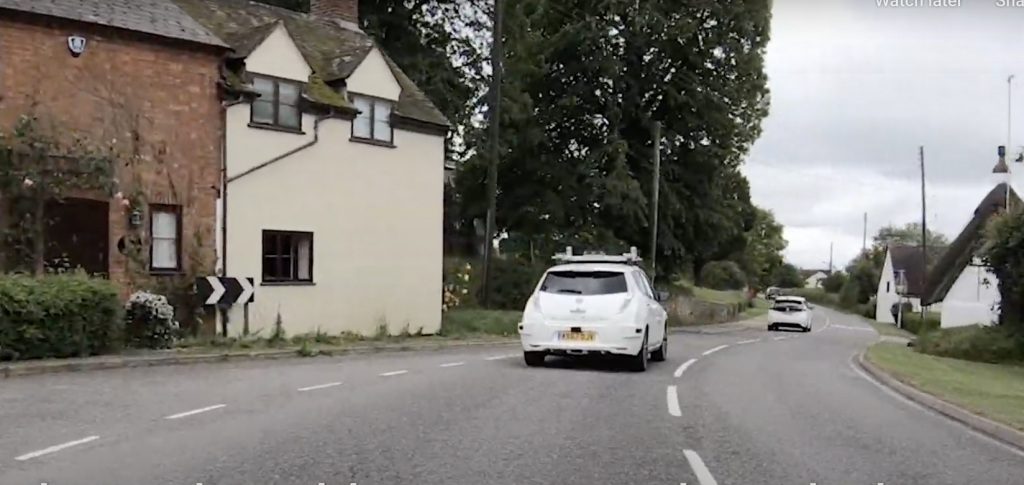 The collaborative project, funded by the UK government and led by Nissan, explored how new technologies can make autonomous vehicle systems feel human-like and natural.
Jointly funded by UK government through the Centre for Connected and Autonomous Vehicles (CCAV) and Innovate UK, and nine other consortium partners, the project's funding package totalled £13.5 million ($18.4 million). The research project completed two trials, the 230-mile self-navigated Grand Drive and a test-track based activity which explored human-like driving using machine learning to enhance the user experience.
The test vehicles included Nissan Leafs, featuring GPS, radar, LiDAR and camera technologies that build up a perception of the world around it. Using that perceived world, the system can make decisions about how to navigate roads and obstacles it encounters on a journey.

The Leaf Odyssey Across England
The Grand Drive from Cranfield, Bedfordshire, to Sunderland came as the culmination of 30 months' work by the consortium. Two engineers rode on board the Leaf to monitor the vehicle's actions at all times. Both were fully trained to conduct autonomous vehicle testing, with one behind the wheel and ready to take control if required, and the second supervising the car's control and monitoring systems. The journey was conducted with the knowledge and support of all relevant highway authorities.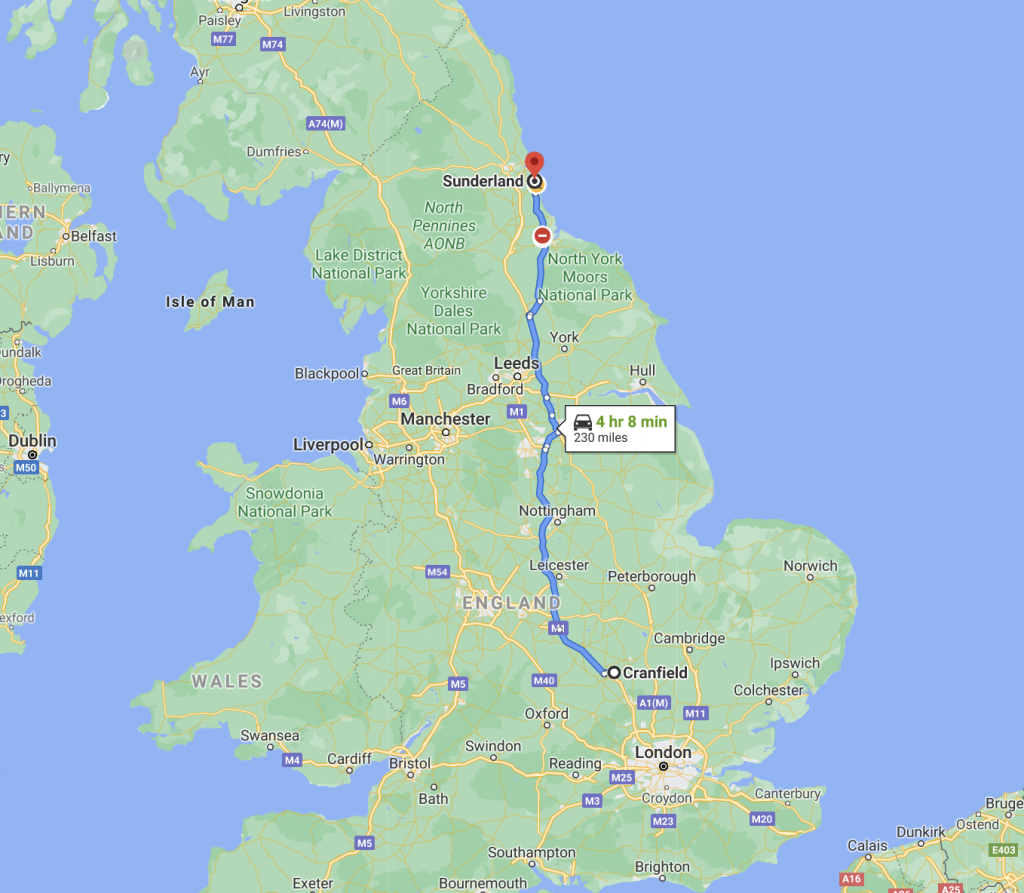 A key aspect of the project was to develop an advanced, autonomous vehicle control system. Ensuring that future advanced autonomous drive systems create a comfortable and familiar experience for customers is important as society move towards a more connected and autonomous future.
The 230-mile journey saw the lessons learned put into practice in a range of driving scenarios to negotiate country lanes with no or minimal road markings, junctions, roundabouts and motorways. The autonomous technology activated along the route to change lanes, merge and stop and start when necessary.
"The main aim of the project is for the HumanDrive car to travel in a way that is comfortable, natural and ultimately trustworthy for the user," said Professor Natasha Merat, Chair in Human Factors of Transport Systems at the University of Leeds. "Integrating human-like controllers in automated vehicles will provide a smoother, more comfortable, experience for drivers and our algorithm development is trying to achieve this, along with an understanding of what people want from an automated driving experience. Using our state-of-the-art driving simulator, we have spent the past 30 months developing new control models for automated vehicles, using data from a range of participants, which are then evaluated by drivers and compared to a recording of their own drive."
HumanDrive and Machine Learning
The second part of the HumanDrive project looked at how machine-learning Artificial Intelligence technologies could enhance the user experience and passenger comfort of connected and autonomous vehicles. Pilot vehicles tested successfully on private tracks also incorporated artificial intelligence systems developed by fellow consortium member Hitachi Europe Ltd, which enable real-time machine-learning. By building a dataset of previously encountered traffic scenarios and solutions, it can use this learned experience to handle similar scenarios in future and plot a safe route around an obstacle.
These technologies were subjected to a robust testing process and developed using a range of facilities, including simulation, hardware in the loop, private test tracks.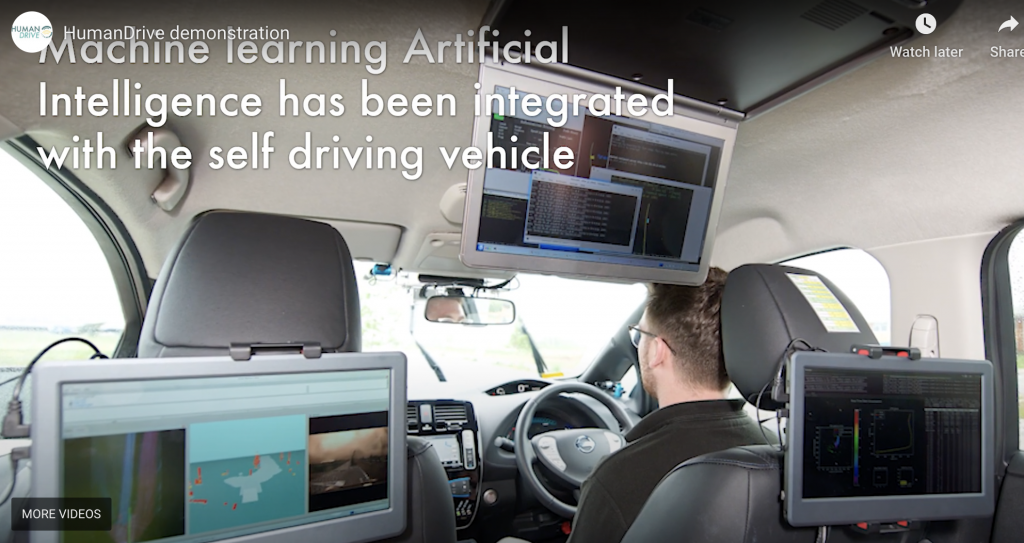 HumanDrive research also focused on advancing cyber security features in AD vehicles, developing testing and safety methodologies for UK AD testing and investigating the implications of AD vehicles on the wider transport system.
Today, the new Nissan JUKE, LEAF, Qashqai and X-Trail models are all available with ProPILOT, a Nissan Intelligent Mobility technology and enhances a driver's control by assisting with steering, acceleration and braking. It works in a single lane on highways, and is optimised for low-speed congestion and high-speed cruising.
By liberating drivers from some of the more mundane elements of motoring, ProPILOT helps to reduce fatigue and stress, whilst improving safety and enhancing control and confidence.
David Moss, Senior Vice President for Research & Development in Europe, Nissan Europe, said: "Nissan's Intelligent Mobility vision is to develop autonomous drive technologies for use in all of our cars in any area of the world. The door is now open to build on this successful UK research project, as we move towards a future which is more autonomous, more electric, and more connected."
Further Resources
Papers available for download at the HumandDrive project's website include:
Measuring User's Comfort in Autonomous Vehicles (PDF)
A paper on the methods and used for measuring the ride comfort for AVs used on the HumanDrive project, written by Ellie Wooldridge and Jamie Chan-Pensley at Connected Places Catapult
HumanDrive Test Methods for Interrogating Autonomous Vehicle Behaviour (PDF)
A paper on findings from the HumanDrive project looking at test methods for interrogating autonomous driving behaviour, written by Richard Hillman at Horiba Mira.
Driver-centred Autonomous Vehicle Motion Control within a Blended Corridor (PDF)
A paper on motion control for driver-centred autonomous vehicles within a blended corridor written by experts at the Institute of Transport Studies, University of Leeds.
Autonomous Vehicle Project Safety Management (PDF)
A paper on Autonomous Vehicle Project Safety Management written by the Connected Places Catapult.
HumanDrive project consortium members and areas of expertise:
Nissan. Lead partner and leading the autonomous vehicle (AV) development
Hitachi. Artificial Intelligence (AI) to provide human-like control and perception
University of Leeds. Understanding humanistic driving and its application to AVs whilst also developing a driver risk model
Connected Places Catapult (CPC). Project management, communications and marketing activity, dissemination and safety case elements of the project
HORIBA MIRA. Provider of test facilities, supported safety aspects of the project
SBD Automotive. Cyber security support and AV Human machine Interface (HMI) studies
Cranfield University. Provider of test facilities and supported AV demonstrations
Atkins Ltd. Provision of a Cyber Security Framework
Aimsun Ltd. Studying the impact of AVs on the transport system
Highways England. Understanding the infrastructure needs for AV deployment