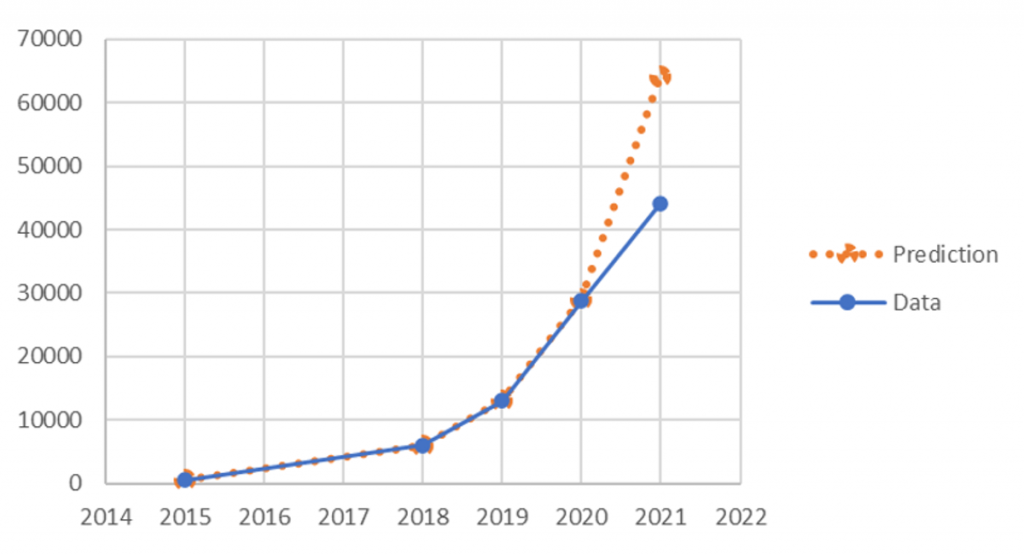 The most recent statistics on autonomous vehicle safety from the California Department of Motor Vehicles (DMV) now reveal the latest window into the struggle among driverless technology companies for dominance, a new study finds.
In February, the California DMV released its 2021 autonomous vehicle disengagement data. These annual reports are essentially a sign of how safe these machines are, as they reveal when self-driving vehicles disengaged from autonomous mode during tests, whether because of technical failures or situations requiring a person to take manual control of the vehicle to operate safely.
In terms of miles driven, all manufacturers totaled about 4 million miles. The top three in 2021 were the same as in 2020, albeit in a different lineup. In first place was Google's sibling company Waymo with more than 2.3 million miles, quadrupling their 2020 testing mileage of nearly 629,000. In second place was GM subsidiary Cruise with about 876,000 miles, a bit more than their 2020 testing mileage of about 770,000. In a distant third was Toyota-backed self-driving car startup Pony.ai with about 305,000 miles, an increase from their 2020 testing mileage of about 225,500.
However, when it came to miles without disengagement, Waymo, the 2020 first-place holder at nearly 30,000 miles, slid to seventh place in 2021 with roughly 8,000 miles.

"Waymo dropped out of the top three," IDTechEx technology analyst James Jeffs said in a blog post on March 7. "Up until this year, Waymo have been one of the front runners in miles per disengagement metrics."
Still, "not all miles are equal," Jeffs noted in the blog post. "The difference this year is that Waymo have increased their testing much more within San Francisco, which has turned out to be a crucible of fire. IDTechEx speculates the dense population, urban traffic, and abundance of cyclists and pedestrians have proven very difficult compared to the relatively green pastures that Waymo has been used to. This shows in their disengagement metrics."
"Despite this downturn in disengagement performance, "Waymo are still making ground on the path to commercialization," Jeffs said in the blog post. "In February 2022, the California Public Utilities Commission gave permission for Waymo to start charging passengers for rides in San Francisco."
At second place in 2021 was Cruise with about 41,700 miles without disengagement. It was also second place in 2020 with about 28,500 miles. 
"As of mid-2021, Cruise has been going through the procedures to commercialize its service in San Francisco," Jeffs said in the blog post. "Then, on February 1, Kyle Vogt, interim CEO, CTO, and co-founder of Cruise, announced that driverless rides in San Francisco will be opened to the public. Applications to be part of the program are now open. The trial will have a limited number of users and will be free, for now. With their ever-increasing performance in one of the most challenging cities in America, commercializing robotaxis and rolling out across the U.S., Cruise is certainly one to watch."
At third place in terms of disengagements in 2021 was China's top ride-hailing service DiDi with about 40,700 miles without disengagement, up from seventh in 2020 with about 5,200 miles.
"This is the second year that DiDi have submitted testing data, with last year being the first," Jeffs said in the blog post. "Their performance has grown significantly."
The 2021 first-place holder was Alibaba-backed Chinese autonomous car startup AutoX with about 50,100 miles without disengagement, climbing up from third place in 2020 with about 20,300 miles.
"However, on further inspection, AutoX submitted a total testing distance of 50,100 miles and, like DiDi, just one reported disengagement, so we must take their achievement with a pinch of salt," Jeffs said in the blog post. "If they have just one more disengagement, their performance halves, whereas with the testing miles behind Waymo and Cruise, one more disengagement would make a negligible difference to their average performance."
Still, AutoX is clearly on the rise. "In February 2022, they revealed their fleet of 1,000 robotaxis coming from their Shanghai facility, fully operational and ready for deployment," Jeffs said in the blog post. "This is quite some growth compared to the 44 vehicles they have registered for testing in California, of which only seven actually recorded milage. One thousand vehicles even surpasses milage leader Waymo's fleet of 693 vehicles registered for testing in California."
Moreover, "in early 2021, AutoX deployed a fleet of fully driverless testing vehicles in downtown Shenzhen, China," Jeffs said in the blog post. "This year that trial has been opened up to more of Shenzhen and there is now a passenger program, making AutoX the first company in China to offer a driverless robotaxi service to the public."
All in all, "this year we can expect more trials, more testing, and even some early and very limited commercialization of robotaxis," Jeffs said in the blog post. "Overall, 2022 is shaping up to be another exciting year in the world of autonomy."