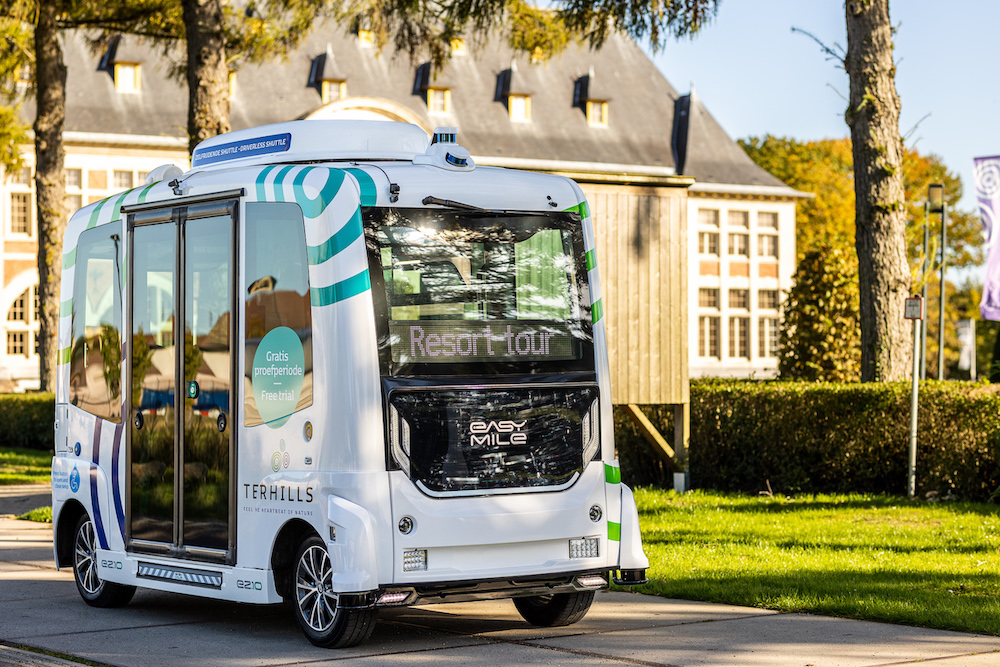 Autonomous technology company EasyMile is providing a fleet of autonomous shuttles for a fully driverless commercial service at the Belgian tourist hotspot Terhills, the company announced October 11.
Terhills is located on the former Eisden mining site in the Euregio region of Belgium, covering roughly 365 hectares on the edge of the country's only national park. The environment today is characterized by lush fauna and flora, large watercourses and unique sights left over from the mining and quarrying that used to occur there. The site is a subsidiary of the investment company LRM.
The new service will run driverless shuttles seven days a week for up to 10 years. It will include progress up to Level 4 autonomy—that is, the ability to act without any human intervention in the vast majority of situations.
To date, vehicles from EasyMile, the number one provider of autonomous shuttles in the world, have autonomously driven more than 1 million kilometers in more than 300 locations in more than 30 countries. The company noted it was the first to receive authorization to run at Level 4 autonomy on public roads in Europe.
"We are delighted to support Terhills in their need for an efficient, long-term transport solution on-site," Benoit Perrin, general manager of EasyMile, said in a statement. "The longevity and commercial nature of this service is a real tipping point for the viability of autonomous shuttles, and mobility overall. It has the potential to put Terhills and LRM on the map not only in innovation, but also as a response to a real business case."
The shuttles will cover a 2.5 kilometer route connecting the Terhills Hotel to the Terhills Resort and the future walking and cycling bridge over the area's large lake. They will replace the current conventional electric bus on the site that suffers a low frequency and is not getting used enough.
"This project is unique thanks to two core ambitions: fully driverless and long-term," Tim De Ceunynck, project manager of mobility at LRM, said in a statement. "We will collect user data and feedback from users to substantiate the business case. We expect the system to be competitive with a classic manned bus. Around the summer of 2023, we will decide on the final outline for the transport system for a period of 10 years on the basis of all this information. The providers' commitment to providing a schedule-bound transport system for such a long period of time is exceptional."
The new shuttles will initially run for eight hours a day, with the capability of a longer span, with the waiting time for passengers at the various stops a maximum of 10 minutes. The system can be expanded to five or six shuttles, with each stop served every four minutes during the busiest hours of the day.
"The Terhills site is one of LRM's strategic development projects," Tom Vanham, general manager of LRM, said in a statement. "What was a desolate mining site a few decades ago has now become one of the most beautiful experience sites in Flanders, good for 1 million visitors a year. The site is comparable to a small town, with very diverse mobility challenges and transport flows. For us, the shuttle system is not just a short-lived demonstration project, but an essential part of a complex mobility puzzle."