A driverless car service available to the public now operates over two set routes spanning a two 6.2-square kilometer (2.3-square mile) area of Seoul, Korea, and linking a busy subway station, apartment complexes and office buildings. The city said it will expand the fleet by three more vehicles, including a bus, by the end of December, with plans to expand into further areas during 2022.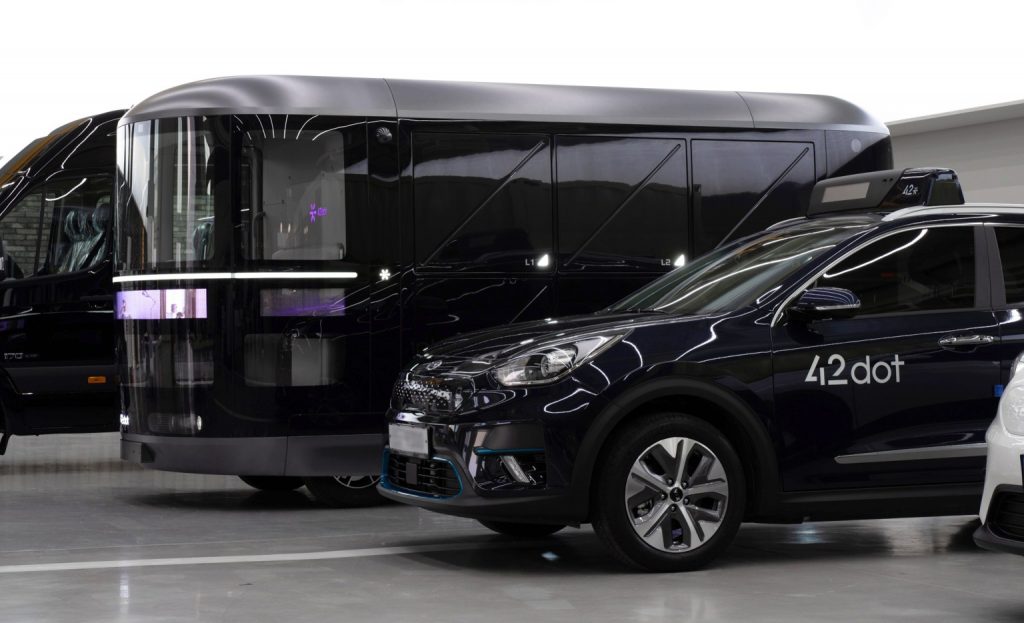 Users can hail a ride using a custom app called Tap! and will ride free for the rest of this year, provided they answer survey questions about their experience. Starting in January, a fare of around $1 for the bus and $2.50 for a car ride will be collected.
Seoul Mayor Oh Se-hoon took the first ride in a November 29 ceremony launching the project in the western neighborhood of Sangam-dong, also known as Digital Media City because of the concentration of broadcast and IT companies there. The district now also hosts the Pilot Driving Zone for Autonomous Vehicles, encompassing 31 kilometers on 24 public streets. "Autonomous driving is not a technology of the future anymore," Oh said. "It is already here with us. Today, public self-driving vehicles have started to serve our citizens."
Seoul will expand driverless services to other parts of the city, bringing fully automated robot taxis to the fashionable suburb of Gangnam in early 2022 and self-driving buses to the downtown area by April.
By 2026, Seoul plans to spend up to $125 million to put more 300 autonomous vehicles on its streets, 50 of them in Sangam-Dong. The ultimate goal is to promote Seoul as a model city for autonomous driving.
Mayor Oh said of his experience in the 42dot car, "I was a little bit anxious at first. But [the vehicle] started slowly, and when it stopped, I felt as if I was in a car driven by a very skilled driver. It's incredibly fun to start such an experiment in the middle of Seoul."
42dot and SWM
Two companies, 42dot and SWM, received city licenses to operate the service. 42dot is a mobility platform that provides mobility and a full-stack autonomous driving technology, AKit, that moves by itself through the urban integrated solution UMOS (Urban Mobility Operating System). AKit targets integration into automaker OEM vehicles by the fourth quarter of 2023. The company is developing its own vertically integrated sensors, SDx maps, autonomous driving core software (AKit Core), AKit OS and system / hardware, AKit AI accelerator, autonomous driving mobility platform and control system.
SWM is a developer of artificial intelligence or AI technology needed to control self-driving vehicles. "Our software framework is called Armstrong," said the company CEO. "The name contains our hope to take a first step in Korea's autonomous car market, inspired by Neil Armstrong, who was the first man to walk on the moon. This framework represents the company's high technology. Once the Armstrong framework is installed on ordinary cars, like the ones from Hyundai and Kia, the vehicles turn into self-driving cars."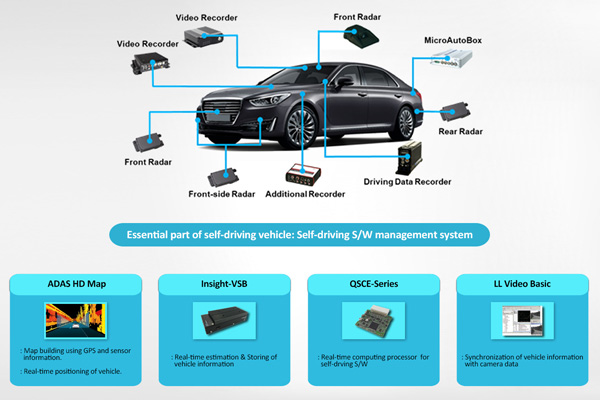 The SWM-equipped vehicle has advanced sensors capable of measuring distances, detecting obstacles and viewing all directions. Its graphics processing unit is designed to assess the surroundings of the vehicle through several cameras, analyze the images and help the car move safely. According to the company, the development of self-driving vehicles requires a combination of AI, big data and 5G networks.
Autonomous Challenge
In January 2021, Seoul and Hyundai signed an MOU to host the "2021 Autonomous Driving Challenge" and agreed to work together to further develop technologies and nurture talented people in the autonomous driving field. In the Challenge, college students build their self-driving vehicles and compete with others. Started as a biennial event in 2010, the contest marks its 6th anniversary this year.
Unlike previous events held on closed test tracks, the next contest will be held on the open streets of Sangam Dong's Pilot Driving Zone for Autonomous Vehicles. A jury will evaluate each vehicle's technological capacity while the cars drive around the city simultaneously. 
"The self-driving market is a golden market to revitalize the economy and create new jobs," Korean President Moon Jae-in said in 2019. He predicted that more than half of cars sold in South Korea in 2030 would be self-driving. The country is investing some $1.9 billion in building out the infrastructure to support the industry.
South Korea's private sector has lined up $50 billion worth of investments in autonomous driving technology over the next decade.