Baidu's Apolong II multi-purpose autonomous minibuses are rolling of the production line in Guangzhou Huangpu District, China. Equipped with advanced autonomous driving (AD) capabilities and in-vehicle smart cabin technologies to enhance passenger experience, the Apolong II answers diversified market demands with customizable multi-purpose solutions for public transport, mobile policing, healthcare providers and other commercial industry scenarios.
The Apolong II minibus mirrors the autonomous driving capabilities of Baidu's Apollo Robotaxi with an autonomous driving computing unit and sensor system sufficient to operate on open roads in an increased operational design domain (ODD). The computing power of Apolong II has increased three times to 372 Tops. Its sensor system is enhanced to include two 40-channel LiDAR sensors, which integrate millimeter-wave radars and surround view cameras. The refined sensor system can now detect up to 250 meters, while positioning accuracy and overall responsivity can be measured in centimeters or milliseconds respectively. The Apolong II can perform unprotected left turns, lane-switching and crossing traffic scenarios.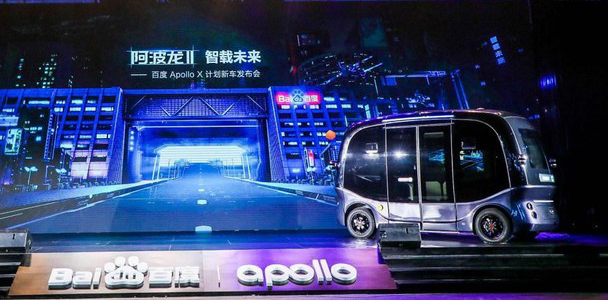 Apolong II can be repurposed for a range of real-world scenarios: public transportation, ride-hailing services, scenic tours and more.

The autonomous minibus uses Baidu's vehicle-to-everything (V2X) and 5G remote driving service with dual redundancy to ensure safety and reliability. With seamless vehicle-road coordination, issues related to smart driving for individual vehicles can be reduced by 54%, while emergency braking situations at intersections are reduced by 90%, according to the company. The 5G cloud-based driving can also enable the autonomous minibus to drive safely and smoothly even under extreme circumstances.


An intelligent 55-inch transparent window display jointly developed by Baidu and BOE Technology projects road conditions and autonomous driving technologies at work. Passengers can also use this HD screen to voice-activate and command its in-vehicle DuerOS assistant, with access to navigation features to explore the surrounding area for dining or entertainment recommendations. A circular seating arrangement and dome lighting fixtures provide an innovative yet intimate ride experience.
The first-generation electric autonomous Apolong been deployed in 22 urban parks in Beijing, Guangzhou, Xiong'an, Chongqing, Foshan and more, accumulating over 120,000 users and a total mileage of 120,000 kilometers.